Digital Gaming Solutions Slots and Online Casinos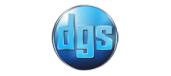 15 Games
4 Casinos
Work on: Windows, Android, Iphone
Digital Gaming Solutions, or DGS, primarily focuses on sports betting and casino games that are US friendly, which applies a major limit to their growth in the market. The games developer produces a small selection of games, which mostly feature 2D graphics of both 3 and 5-reel games. However, they do provide a broad selection of game themes and a few unique titles, some offering up to 9 reels.
Devices and OS compatibility
One of the major benefits of Digital Gaming Solutions is that they cater to both PC and mobile platforms. Most of their games are based on Flash technology while the mobile-friendly games use HTML5 software to fit onto smaller screens.
Read more
Best casino games by Digital Gaming Solutions
The majority of games on the DGS platform is described as basic due to the simple features and graphics. Nine Reel Titan is one of the most innovative games they provide, which includes 9 reels and 10 paylines. The slot machine provides a jackpot of 2,000 coins along with special features such as scatters, multiplier rewards and wild symbols to enable more winning combinations.
Fast Way is a racing-themed online slot that features 5 reels and 5 paylines. Once again, the layout of the game is very straightforward and simple with 2D graphics and the addition of wild symbols and scatters to add to potential payouts.
The Golden Pharaoh features the same layout as Fast Way, but includes a unique theme that revolves around Egypt. Apart from that, the game has the same graphics, and a 2,000-coin jackpot along with standard wild and scatter symbols as the primary features.
Best Casinos with Digital Gaming Solutions Games
New Casinos
Local Casinos (UK)
Mobile Casinos
Name and logo
Game types
Rating
Total games
Bonuses
Countries
Check out our list of Digital Gaming Solutions casinos right here:
BetUS Online Casino
Wager Web Casino
Tropical Cash Casino
Island Online Casino
SportBet Online Casino