Action Bank Slot Review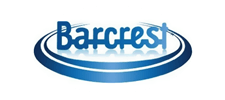 Play demo
Video review
Screenshots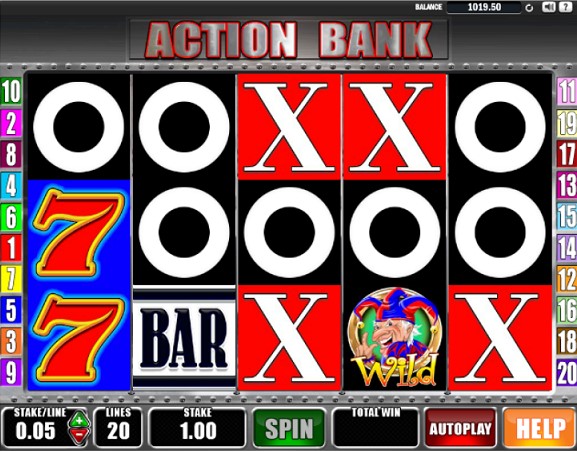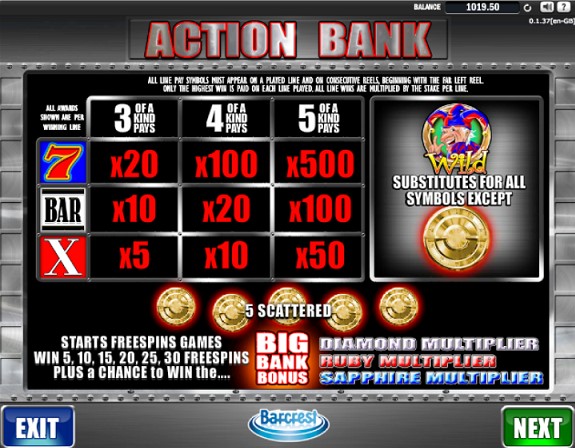 Try other slots
By this produser
By this theme
Features
Newest
The Action Bank slot is a strange one to review because on first sight is looks like a boring slot which you wouldn't dream of playing.
Look a little closer though and you will see that Barcrest have produced this game and that means only one thing doesn't it?
It has got to be worth a closer inspection.
Theme and subject
It is actually really difficult to decide on which theme the Action Bank slot is based on. Going by the name you could be forgiven for thinking that it is based on some kind of financial institution but the best way to describe it as one of those slot machines which you may have played on whilst visiting the amusement arcade on a pier somewhere by the sea.
It wouldn't be difficult to half close your eyes and imagine that there is a little slot in which you insert your coins to start each game. You would have to give credit to Barcrest for developing a game such as this because it would be easy for many online players to load the game up and then close it straight away, dismissing it out of hand because it looks to be so old fashioned.
That would be a big mistake though because the Action Bank slot is not all that it seems and when it comes to the bonus round it looks like Barcrest have come up trumps yet again by pulling something out of the bag which makes this slot highly entertaining. Before we move on, it might be worth mentioning when the Action Bank slot was released.
Even an industry expert would probably have thought that pre-2010 would be likely for a slot of this nature but what makes the game even more intriguing is that is as actually released in 2015. That is a relatively short period of time ago and when that fact is added to the producer being Barcrest, this result is a review which you may not have been expecting.
Symbols and soundtrack
If you think of yourself as something of a soundtrack aficionado, the Action Bank slot won't exactly have you trembling with excitement. Just a basic soundtrack which compliments the game and if you were expecting the symbols to be a little more adventurous, again you are going to experience something of an anti-climax.
There are in effect only three basic symbols and they are the zero, the cross and the number seven. The cross and the zero are more commonly referred to as OXO. There is also a Joker which represents the wild symbol and the golden vault which is the scatter symbol that triggers the main feature. At this stage, you would again be forgiven that playing this game would only ever happen to you if you had nothing else to do and someone gave you some money to play instead of using your own.
Hold your horses though because as already mentioned, there is much more to this game than meets the eye as you will discover only too well when we start to talk about the bonus rounds.
Bonus options
When it comes to the bonus options with the Action Bank slot you are in for a very big surprise so if you want to learn more, please pay attention. If one of the zeros or white circles turns into a bonus symbol your heart should start to beat a little faster because it means that the bonus is triggered.
The player will be given the option of choosing one of five different bonus symbols and behind each one of these symbols will be a number which relates to the amount of free spins that have been won.
The numbers can be either five, ten, fifteen, twenty or twenty-five or on occasions, the Big Bank bonus will be revealed but we will talk about that in a little while. Another unique aspect of the Action Bank slot is that there is the option to take a gamble on the number of free spins. When the free spins start some extra symbols are added to the reels in the form of double crosses and double sevens.
When they appear on a winning pay line during the free spins it will result in the winnings being doubled and it should also be mentioned that it is possible to re trigger the free spins during the free spins round. Ok, we mentioned the Big Bank bonus so let's take a look at that.
If the big Bank Bonus appears a new graphic is launched where fifteen symbols will appear out of nowhere and they consist of six sapphires, four rubies and four diamonds.
The way that the graphic is displayed has all of these symbols hidden behind a large door and you have to keep on picking the symbols until you have chosen three of the same kind.
The prize is displayed at the top of the screen, but it can be as much as five hu8ndred times the initial stake.
Who'd have thought that a bonus round and free spins of this nature would be possible from playing such a boring looking slot.
Pros and cons
The pros and cons for the Action Bank slot are quite easy to recognise because you definitely get more than you were probably expecting.
Pros
On first sight this is a traditional looking game which will appeal to older players who can remember playing similar games at their local amusement arcade.
The bonus round will appeal to players who are used to more entertaining games and they will most definitely have a pleasant surprise when they discover exactly what is waiting for them.
The free spins round can come up with some very large wins
The variance isn't too bad so your bankroll could go a long way
Cons
Younger players may not even give this slot a chance due to the initial appearance
The variance can go either way and it is possible to experience quite long losing runs
For those who enjoy complex graphics from the outset, this slot might not suit them.
The soundtrack is not as 'full on' as some other slots
Similar games
If you enjoyed playing the Action Bank slot you could stick with Barcrest and see what slots they have to offer of a similar nature. The first one which comes to mind would have to be the Lucky five Reeler slot which Barcrest introduced in 2013.
The main similarity is that on first sight it is very basic with the basic Ten, Jack, Queen, King and Ace symbols but the surprise when you start playing is that it has five free spins for every wager that you make. This more than makes up for the complete lack of any kind of bonus features or wild symbols.
Another option would be the highly thought of Reel King slot by Novomatic. This is another one of those basic looking slots with a highly unusual bonus which surprises many people who play the game. The reason being is that you can only tell that the bonus has been triggered by the ay that the soundtrack changes as opposed to flashing lights etc with the graphics.
It is quite an experience so why not take a look and see what you think?
Where to play
You won't struggle to find a wide range of online casinos who offer the Action Bank slot so why not take a look at the ones who offer a sign up bonus which you can use to play this game.
It stands to sense that if there is free money available you should take advantage of it but make sure that you check the terms and conditions which are associated with these bonuses.
Queen Vegas Casino – 100% to £200
Casumo Casino – 100% to £200
Mr Play Casino – 100% to £400
Guts Casino – 100% to £100
Video Slots Casino – 100% to £200
Grosvenor Casino – 100% to £300
Vegas Winner Casino – 100% to £100
All Casinos to play: