Book of Dead Slot Review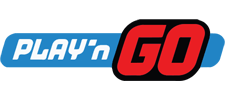 Play demo
Video review
Screenshots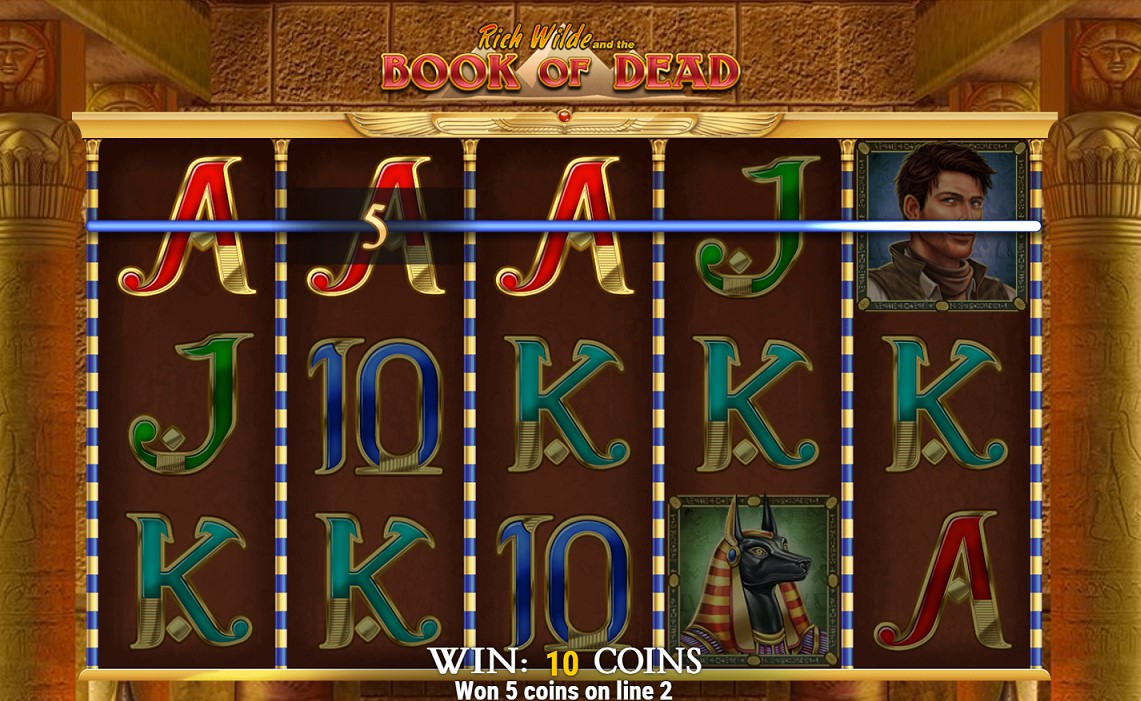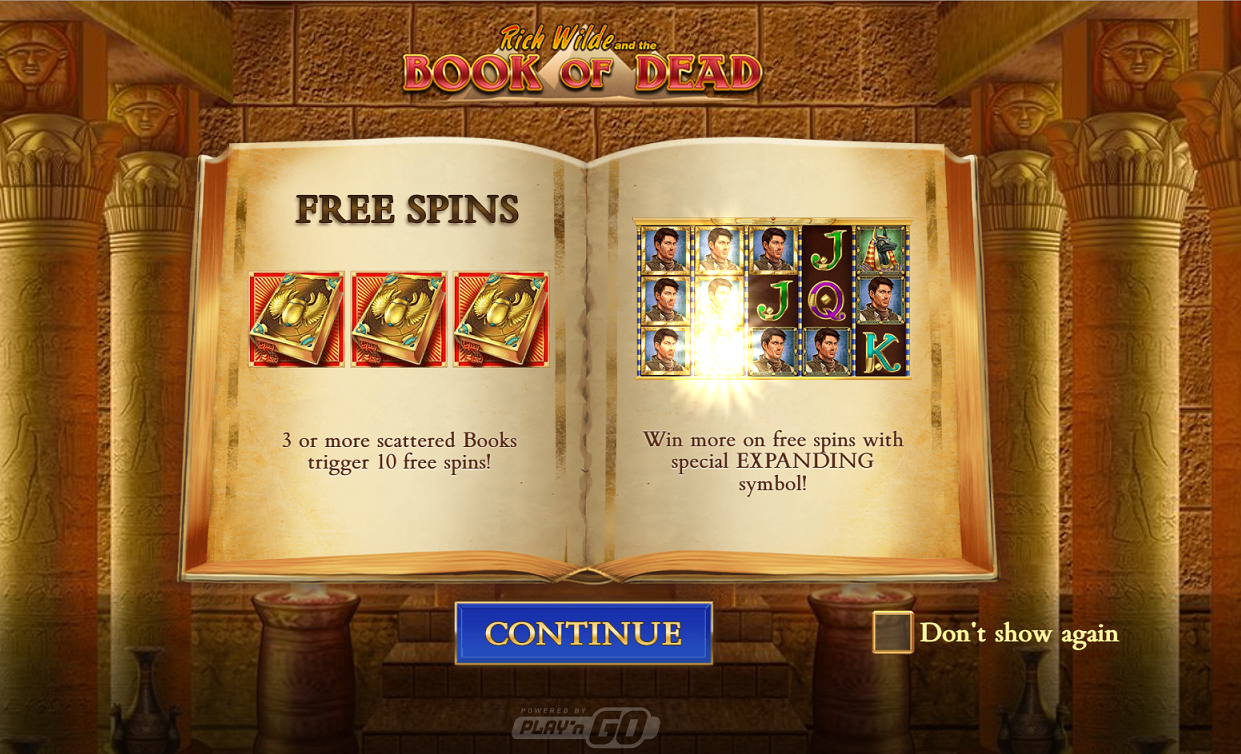 Try other slots
By this produser
By this theme
Features
Newest
The Book of Dead slot is another unmistakable offering from the Play n Go software provider, and they are yet again providing the online slots player with a tried and tested formula which has always been popular.
The online slots players might knock Play n Go as their games are all extremely similar, but they are obviously doing something right as players keep on going back for more.
Theme and subject
The Book of Dead slot game is based around the world's greatest explorer, Rick Wilde, as he tries to unearth the secrets of the pharaohs and the ancient Egyptians, all tongue in cheek of course.
It is a very fast-moving game and to be perfectly honest, more effort could have been made with the sound track because it is extremely monotonous and unlike other slots, doesn't really set the mood for the game.
The variance for this slot is quite high which in layman's terms means that you can sometime be playing for long lengths of time without getting any pay-outs.
Admittedly, when the pay-outs do arrive they can be on the larger side but for a player with limited funds who is playing the game for entertainment purposes only, long losing runs can mean only one thing and that is they will look elsewhere when they next want some slot action.
For those who don't mind the variance, The Book of Dead can be quite an enjoyable game to play and as you will read about shortly, when the bonus feature does get activated the benefits can even make up for the appalling sound track.
One more thing to mention, even though book Of Dead was only released in the early part of 2016 the game may seem to be familiar to you.
That is because it is remarkably similar to the Novamatic offering, Book of Ra.
Make your own mind up as to whether this is coincidence or because Play n Go wanted to get a little bit of the action due to the enormous popularity of Book of Ra.
You can't really blame them if this was the case and it can't have been that much of a problem, otherwise Novamatic would surely have done something about it.
Symbols and soundtrack
We have already spoken about the soundtrack so let's take a look at the symbols which make up the Book of Dead.
You have the usual Ten, Jack, Queen, King and Ace as well as a number of symbols which relate to the theme of the game including one which is Rich Wilde himself and the Book of Dead symbol which is related to the scatter feature.
The high variance of the game has already been mentioned but in relation to the symbols, the most common winning lines are the likes of the Ten, Jack, Queen, King and Ace with the bonus rounds occurring on a very infrequent basis.
Bonus Options
As with most high variance games, the bonus rounds are very few and far between but when they do occur they usually have the potential to be extremely generous. (for want of a better word!)
In order to qualify for a free spins round you need to get three books to appear anywhere across the reels.
When this happens and before the actual free spins begin, one symbol will be automatically be chosen and this will turn into an expanding scatter.
You are probably asking how many free spins will be awarded and the answer to that question is that it depends on how many books are revealed on your paylines.
You will start with ten free spins and these free spins will increase depending on how many other books appear during the bonus rounds.
If you have any experience with online casino slots you will be only too well aware that the expanding wild feature can p0rovide some huge wins and this is one of the reasons why the Book of Dead slot has proven to be so popular with more serious slot players as opposed to the recreational types.
They know only too well that if they can ride out the long losing streaks and wait for the bonus rounds, they could very well experience some huge wins.
Pros and Cons
Pros
It is possible to win big on the Book of Dead slot. If you have the tenacity to grind out the long losing runs you could very well be surprised by some of the pay-outs when the bonus feature is triggered.
The graphics are actually quite good. Clean and crisp, they definitely do the job that they are required to do.
The theme of the game is quite entertaining with main character, Rick Wilde, leading the way in the hunt for the hidden treasure
Cons
For those players who are more used to a slot game with a little more excitement, The Book of Dead good quite easily be described as being slightly on the boring side.
The sound track is sadly lacking and does nothing at all to complement the game.
The high variance means that a long time can be spent playing without getting any returns. For those players who only have a small bank, this can mean that even if they are playing with small stakes they will their bankroll rapidly decrease, and their game time will be drastically reduced.
The Book of Dead could be described as a little too similar to the Book of Ra slot
Similar games
If you enjoy playing Book of Dead it probably won't take too much guessing to be told that the Book of Ra is extremely similar.
Book of Ra
This slot from Novomatic is basically the same as Book of Dead.
Change the characters around a little bit and if you turned down the sound you wouldn't know which game you were playing.
You would have to say that Book of Ra is a superior game though and it has the added attraction for the recreational players that it has a slightly lower variance so would no doubt be a more attractive proposition to that type of player.
Immortal Romance
These might seem to be a strange choice as a game which is deemed too similar to Book of Dead, but it is a game which Book of Dead players should at least try once.
It offers a completely different slot playing experience but one which will definitely appeal.
It will also give players a taste of playing a low variance game which is enjoyable to play and will offer them fantastic entertainment for their money.
You would be surprised by how many online casino slot players choose to play one game and then religiously stick to it without even looking at any other games.
The danger for Book of Dead players who fit into this category is that once they have tried Immortal Romance, Book of Dead won't stand a chance!
Where to play
When looking for an online casino to play Book of Dead it is always a good idea to take a look at what bonuses are available, if any.
These could be in the form sign up bonuses are promotional offers which are offered to those players who already have an account with the casino in question.
It is important to always read the terms and conditions which relate to any bonuses but if used correctly, they can greatly enhance the gameplay and offer fantastic value for money.
The list of online casinos below offer Book of Dead as one of their games and the sign up bonuses which they offer are listed next to the casino name.
Betsafe Casino – 100% to £200
Unibet Casino – 100% to £100
Mr Smith Casino – 1005 to £200
LeoVegas – 100% to £100
Magical Vegas – 100% to £1000
All Casinos to play: