Book of Ra Slot Review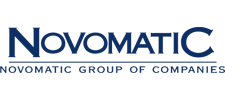 Play demo
Video review
Screenshots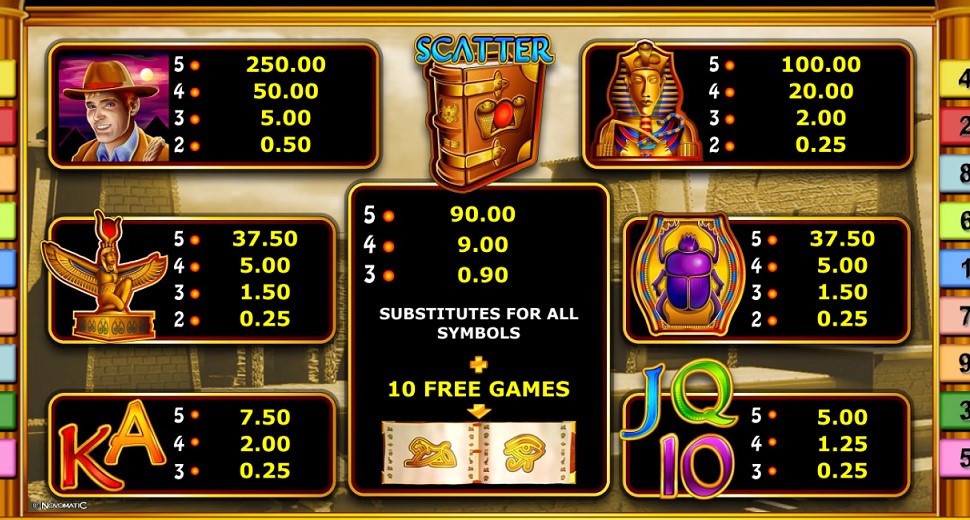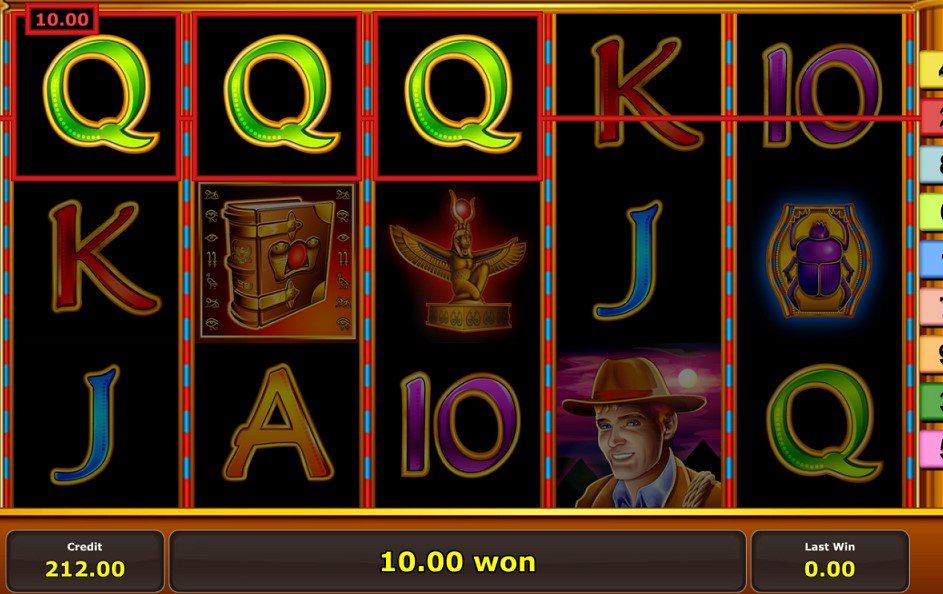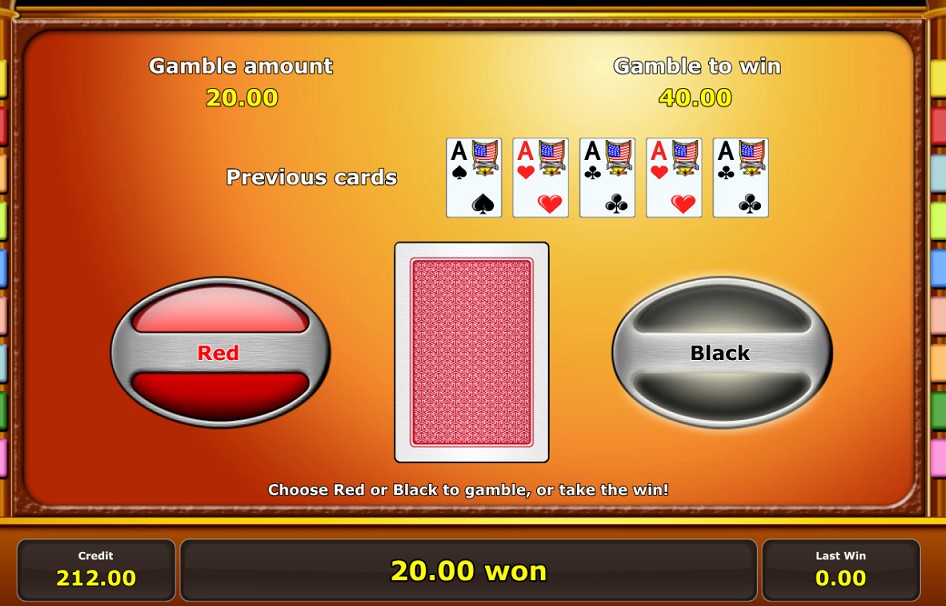 Try other slots
By this produser
By this theme
Features
Newest
Book of Ra is considered by many to be an iconic game which has more than past the test of time.
The software developer, Novomatic, who is responsible for this gem of a game certainly know what they are doing and even though the game could now be considered to be outdated, it is still extremely popular amongst online casino slot players from around the world.
Theme and subject
Novomatic has a great deal of experience when it comes to developing slot games, but the Book of Ra is by far the most successful game that they have developed to date.
Don't be put off by the run of the mill Egyptian theme because it really is an exciting and entertaining game to play.
The playing experience has to be described as being enjoyable, but the soundtrack does leave a lot to be desired. You have the very basic Egyptian music playing in the background along with the overriding noise of the reels being spun.
It is ok for those that are not bothered about that sort of thing but some of the other soundtracks that are out there will blow this one out of the water.
On saying that though, it is still easy to lose yourself in the mystery of the game but if you intend to sit back and use the autoplay facility on the Book of Ra, be careful.
Not because there are any problems with it or anything like that but because as the variance is quite high for the game, it can eat through your betting bank like there is no tomorrow.
If you are playing manually you are more aware of this but if you are on autopay and you get distracted in some way, you could be in for a nasty surprise when your attention is drawn back to the game.
Symbols and soundtrack
We have already spoken about the soundtrack but in the whole scheme of things, it doesn't really distract from the fact that everything else about the game is first class.
The graphics are about as crisp and clean as it is possible to get, and the gameplay is very fast, none of the type of nonsense that you can sometimes experience with some of these older games.
As far as the symbols go, you get the standard Ten, Jack, Queen, King, and Ace along with a variety of special symbols which include totems, jewels, and scarabs.
A wild symbol completes the picture along with the scatter symbol which is used to activate the bonus round.
All in all, the set up for the game cannot be faulted and it is usually the case that if an online casino has these basics right, the rest usually follows.
Bonus Options
As with most slot games, it is the bonus round where all of the good stuff happens, and this is most definitely the case with Book of Ra as the player can experience some fantastic pay-outs with a little bit of luck.
The bonus is activated when the player gets three scatter symbols and the result is ten free spins.
That doesn't sound brilliant but the pay-outs from it are good and the added bonus is that the free spins can be activated again during the free spins round and this occurs more often than you would probably imagine.
Pros and Cons
Many new players who have not had the pleasure of playing online casino slots such as Book of Ra look at the game and dismiss it out of hand.
Book of Ra is now up against brand new slots which are based on all sorts of popular themes such as characters from Marvel comics and popular television programs but if these players are ignoring games such as this they are missing out big time.
There is no getting away from the fact that the game is somewhat dated but it is still a great game to play and when you take into consideration that it is still going strong after all these years; great credit is due to Novamatic who had the foresight to develop a game such as this.
There are though, pros and cons for every game and Book of Ra is no exception so let's take a closer look at those now.
Pros
A game which is easy to play and about as straightforward as they come.
The graphics are superb and even though this is a relatively old game (in the world of online slots) the graphics still look good today.
Even though it just looks like a run of the mill bonus, it can pay very well indeed and the winnings from it can soon mount up.
As Book of Ra is from the Novamatic group, the game is both robust and extremely reliable.
There is the ability to play with micro stakes which means even the most recreational players are well catered for.
Autoplay is available for those who wish to take advantage of this feature.
Cons
The soundtrack is very basic and leaves a lot to be desired.
The variance is quite high, and it is quite easy to eat through your bankroll at lightning speed.
Some of the other slots that are out there offer a far more attractive proposition to younger players and many of them probably wouldn't even entertain playing Book of Ra
The bonus feature on other games can seem to be far more attractive at first sight.
Similar games
There are similar games out there and different ones are recommended for different reasons.
One in particular which is recommended because of it easy game play and straightforward bonus system is Rainbow Riches
Rainbow Riches
This is an extremely popular game with a lower variance than the Book of Ra and although it doesn't offer spectacular bonus pay-outs, it pays more than enough to keep the player interested.
The big win comes when three rainbow symbols appear at the same time and the amount of winnings is decided by the simple spin of a wheel.
The number it lands of is multiplied by the stake which has been played and this is paid out straight away.
When you take into consideration that this amount can be up to five hundred times the stake, it doesn't take much imagination to realize how big the payout can be.
Thunderstruck
Another game which is extremely easy to play and will appeal to players who enjoy the Book of Ra.
A simple bonus is activated when three rams appear at the same time and this results in fifteen free spins with a multiplier of three.
If three more rams appear during the free spins, another fifteen free spins are added so the winnings can certainly mount up.
Where to play
As you can see from the list below, there are several casinos which offer you the opportunity to play Book of Ra
Next to the casino, there is listed the sign-up bonuses which are available to those who are opening an account at the casino for the first time.
As you can see, some of these sign-up bonuses are especially generous and can greatly enhance the amount of money that you have to play your favorite casino games, in this case, the Book of Ra.
You will also find that various bonuses and promotions are available from time to time to players who already have accounts with the casino.
Always take the time to read the terms and conditions associated with any bonus but it makes sense that you look at what extra money is available to enhance your playing experience.
Leovegas – 100% up to £100
Casumo – 100% first deposit bonus up to £300 + 20 free spins
Guts casino – 100% up to £100 + 50 Extra Spins
Dunder casino Up to £1600 Bonus + 120 Free Spins!
888 Casino – 100% up to £100
All Casinos to play: