Da Vinci Diamonds Slot Review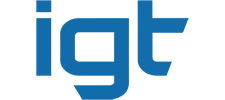 Play demo
Video review
Screenshots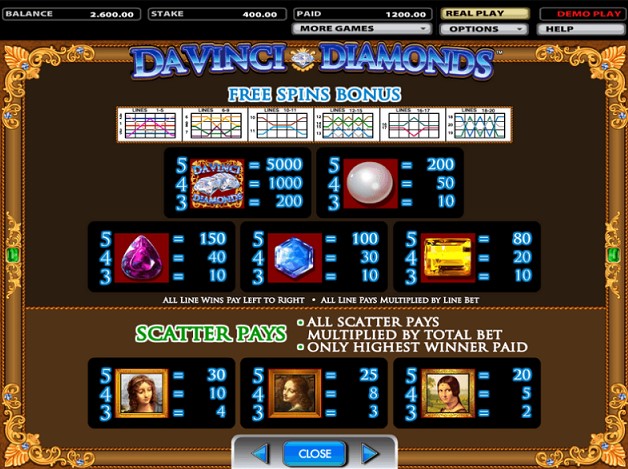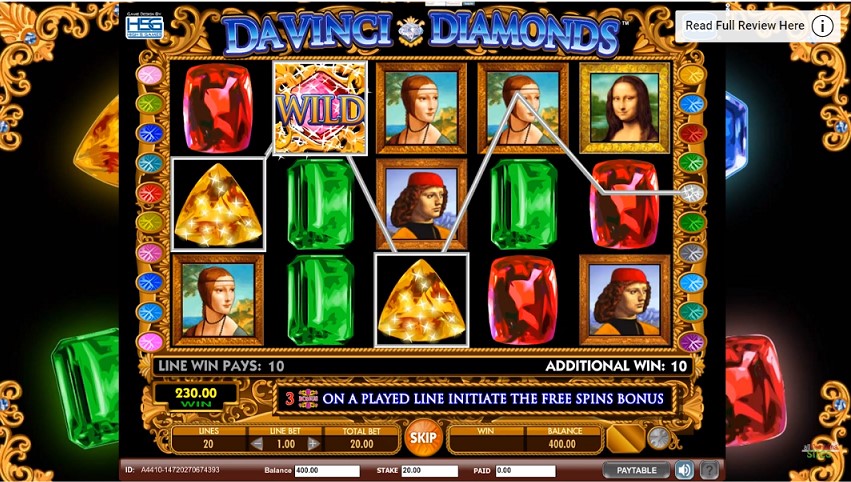 Try other slots
By this produser
By this theme
Features
Newest
Da Vinci Diamonds is one of those games that most players have a soft spot for.
Without wishing to offend the designers of the game, IGT, it is rather like an old sweater which you like to wear when lounging around the house.
You know it has seen better days but that doesn't make the slightest bit of difference because it is comfortable and makes you feel good when you wear it.
That comparison might be slighty unkind towards the Da Vinci Diamonds slot because it is actually a very classy game as you will read about later, but it has been around the block a few times, most people would agree with that.
Theme and subject
The theme of the Da Vinci Diamonds slot is the paintings of the one and only Leonardo Di Vinci and the renaissance period in general.
Quite a unique theme, don't you think?
The Da Vinci Diamonds slot has definitely stood the test of time and it is commonly regarded as being one of the most played online casino slots and it is not difficult to understand why.
The famous tumbling reels is one of the most appealing aspects of this slot and the Di Vinci Diamonds slot was one of the first slots to incorporate this feature.
If you are familiar with the tumbling reels feature you will know only too well that it means you can usually extract good value for your money as the variance which is associated with this game results in very few losing runs.
Do you know that feeling when you are playing a slot and it seems that today is just not going to be your day?
Winning pay lines are always one out and you can feel your chest getting tighter and tighter as it is becomes apparent that there is no chance that you are going to win, and you might as well have flushed your money down the toilet.
Well, this is not one of those games and probably one of the main reasons why online casino slot payers keep on going back to the Da Vinci Diamond slots time and time again.
It always seems like a win is just around the corner and the tumbling reels feature always gives the player the opportunity of turning a small win into a very big win.
Symbols and soundtrack
The soundtrack is just about right and that means you don't really notice it.
If you asked any Da Vinci Diamonds slots players what they think of the sound track the vast majority wouldn't be able to answer for the sole reason that they don't know what the sound track is!
Before we start to talk about the actual symbols on the Da Vinci Diamond slots, most people would agree that they are starting to look a little bit dated.
It is really strange though, you just can't put your finger on the reason why, the images on the symbols look to be perfectly fine but when you step back and think about it, the reason why the symbols are starting to look a little dated is because they don't seem to look as vibrant as some other games.
For the average online slots player, this is far from being any sort of problem but any player who takes their slot playing seriously, this is something that they will probably notice.
Back to the actual symbols, instead of the usual Ten, Jack, Queen, Kind and Ace like you usually find in most online slots, Da Vinci Diamonds is a little more classy in that it has red, orange and green gems which represent the lower value symbols whilst the portrait of a man, portrait of the Mona Lisa, portrait of Cecilia Gallerani and the Da Vinci Diamond symbols represent the higher value symbols.
Bonus options
As with all tumbling reels slots, this is where it gets exciting and the Da Vinci Diamonds slot is certainly no exception.
Just in case you are not familiar with the tumbling reels feature, this is basically how it works.
When you get a winning pay line, the symbols which make up that pay line disappear and new symbols will fall down and fill in the gaps.
There can't be may things more exciting than when you can see winning pay lines in advance before the new symbols drop into place, especially if you know that the resulting pay line will reward you with a decent sized win.
Anyway, back to the bonus.
When three of the Da Vinci Diamonds bonus symbols appear on the first three reels the free spins will be awarded.
Some of the symbols completely change for the free spins rounds, mainly in the form of three new portraits which are the Virgin of the Rocks, Madonna and a portrait of a lady.
Unlike some of the other games that are out there you do not get awarded any multipliers during the free spins but to be completely honest with you, with the tumbling reels you don't need any multipliers because the tumbling reels are lucrative enough!
It would not be too much of an exaggeration to say that sometimes, the free spins round seems to go on for a very long time as the tumbling reels do their stuff and produce some very big wins.
Pros and cons
Most people love the Da Vinci Diamonds slot, so it is actually quite difficult to come up with some negatives but let's take a look at both the pros and cons of this extremely popular slot.
Pros
The Da Vinci Diamonds slot is a game which has been around for ages and is still as popular as ever
Your bankroll goes a long way due to the favourable variance
Possibility of some big wins during the free spins round
The theme of this slot make a refreshing change to what you might be used to
Cons
Some would argue that the game is starting to look a little dated
The symbol graphics are not as vibrant as they are in some other slots
Some of the wins during regular play can be on the small side a little too often
The soundtrack could be a little livelier, especially to attract the younger generation of slots players
Similar games
It would probably be fair to say that the main attraction for players who love the Da Vinci Diamonds slot would be the tumbling reels feature.
It therefore stands to sense that other slots with this feature should be recommended.
You can't go far wrong with Gonzos Quest and the tumbling reels feature that it offers.
Out of the NetEnt stable it also has its raving fan base and it is not difficult to understand why because the graphics are of another world.
There is a wonderful multiplier on the top of the screen which increases with every consecutive win and the bonus round is about as good as it gets, highly recommended.
Another tumbling slot which is worth a try is Gemix by Pay n Go.
There is a lot going on with this slot with tumbling reels wherever you look so don't attempt to play if you can't give it your fullest concentration.
Where to play
You won't have any trouble at all finding online casinos which offer Da Vinci Diamonds as one of their games.
There are a few listed below along with any sign up bonuses which you could claim and use it to play on this slot
As always though, take care to read the terms and conditions which are associated with the bonus to make sure that there are no catches.
With that in mind, here is a list
All Casinos to play: