Divine Fortune Slot Review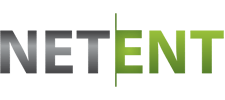 Game types:
Other slots
Triple 7s slots
Progressive slots
Play demo
Video review
Screenshots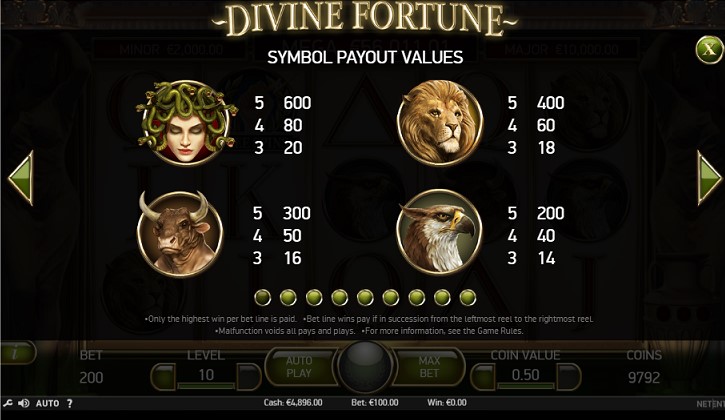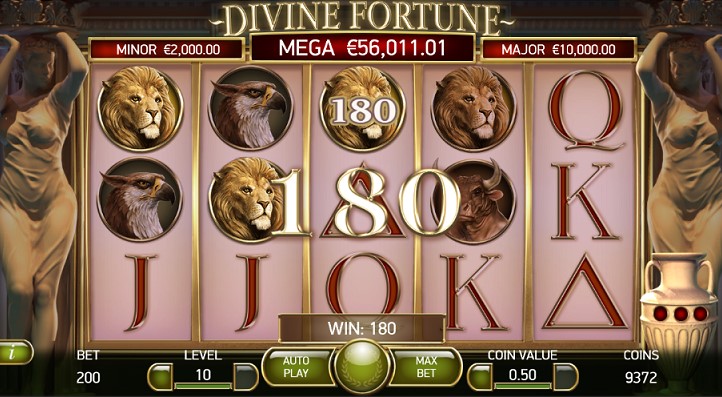 Try other slots
By this produser
By this theme
Features
Newest
The Divine Fortune slot by NetEnt is one of those slots where a win from one of the bonus features could change a players opinion from it being a very boring and not at all entertaining game to one which they would recommend to their friends.
The game play is about as basic as it is possible to get and you might have expected something which is a little more daring from a producer with the reputation of NetEnt.
Theme and subject
The theme of the Divine Fortune slot is Ancient Greece and this is another one of those subjects that players just can't get enough of.
This slot is very straightforward to play and the normal gameplay is sometimes interrupted by wild symbols which if they fall at the top of the reels, will drop down a level and result in extra spins as long as they are still in view.
This feature has to be mentioned in this part of the review because without it the normal gameplay would be extremely boring.
Long runs without any returns seem to be the norm and apart from the bonus rounds, it is only the hope of seeing these wild symbols which spice things up a little bit.
It should also be noted that the overall gameplay is very quick so it is vitally important that you keep a close eye on the balance on your account and play with a stake size that you are comfortable with because your balance can soon disappear if luck is not on your side.
Symbols and soundtrack
The soundtrack to the Divine Fortune slot is very subtle and as usual with NetEnt slots, they have got is just right.
It would not be too much of an exaggeration to say that this soundtrack is somewhat 'classy' and it suits the game perfectly.
Unfortunately, the same cannot be said about the symbols as they are basic to say the least and it looks like not a lot of thought has gone into them.
The symbols consist of the usual Jack, Queen, King and Ace with the higher value symbols consisting of the Eagle of Zeus (Aetos Deus), the Nemean Lion, the Minotaur and Medusa.
There is a white horse which represents the wild symbol and a golden coin which represents the Jackpot symbol.
The strange thing about the Divine Fortune slot is that even though the gameplay is lacking when compared to some of the other slots which are on the market at the moment, it is strangely addictive to play.
If it wasn't for the fact that it would be illegal, you could be forgiven for thinking that the soundtrack is having a subliminal affect on your way of thinking and causing you to keep on playing when you know only too well that it might be a good idea to stop.
This is admittedly an extremely far fetched thought but bear that in mind as you become engrossed in the divine fortune of ancient Greece!
Bonus options
The bonus options for the Divine Fortune slot are actually very entertaining and could also be profitable if lady luck is on your side.
Before we go any further we will again quickly mention the wild symbol because this can result is some quite attractive pay outs when it appears.
If it appears toward the top of the reels it will drop down a place giving a free spin.
You will also find that it is not unusual for the wild symbol to appear on adjacent reels at the same time which can also result in some decent sized wins.
Then we have the free spins feature which is triggered when the three scatter symbols (or more) appear anywhere across the reels.
If three scatter symbols, appear you will receive five free spins, four scatter symbols and you will receive eight free spins and five scatter symbols and you will receive twelve free spins.
An exciting aspect of the free spins round is that if a wild symbol appears on any of the reels during the free spins it will expand to cover the entire reels.
If you have played slots before which have a similar feature you will appreciate how lucrative this can be.
Finally, we have the jackpot bonus game.
As is common with NetEnt gams, there is a progressive jackpot and the jackpot bonus game can put you in with a chance of winning this prize as well as other attractive cash prizes along the way.
To qualify for the jackpot bonus game, you will need to get three of the golden bonus coin symbols on view and you will be rewarded with three free spins on a new set of reels.
Every time a golden symbol appears you will win a prize of up to two hundred times your stake and the three free spins will reset and start again.
This feature can see your balance rise quickly and then there is the added attraction of the possibility of winning the progressive jackpot.
If you fill one row of gold coins you will win the minor jackpot, two lines of gold coins will result in the major jackpot and three lines of gold coins will result in the major jackpot.
The amount payable for each one of these jackpots is visible at the top of the playing area above the reels.
Pros and cons
Yet another slot which has the marmite affect, you will either love it or you will hate it.
It would be fair to say though that first impressions can be misleading and once you get into the Divine Fortune slot it can be quite entertaining.
Pros
Easy to get carried away when playing this game for no particular reason which is quite bizarre
Very quick gameplay which will suit high rollers
The wild symbols can turn into an unexpectedly large win
The progressive jackpots are a great incentive to carry on playing
Cons
Graphics are on the basic side to say the least
Variance is low so your playing balance can quickly go down
Long losing runs are not uncommon
If the wild symbols do not appear in normal game play the slot could be considered to be slightly boring
Similar games
If you enjoyed playing the Divine Fortune slot another game which you could try would be Microgaming's Thunderstruck.
Based on a similar theme, this game is also pretty straightforward, some might describe it to be a little on the boring side but it is one of the most popular slots out there and if the bonus rounds kick in it can be a very profitable game to play.
Another slot which you might want to take a look at is the Viking Runecraft slot from Play n Go.
This slot is basically on another level and even though the theme is similar, the gameplay will offer you a completely different experience altogether.
Where to play
Lots of online casinos offer the Divine Fortune so it won't be a problem to find a casino where you can play the game.
Look at the sign up bonuses on offer from these online casino which you can use to play the Divine Fortune slot because it basically means that you will be playing with the casinos money.
Always make sure that you check the terms and conditions which accompany these bonuses though.
Bet385 Casino – 100% to £100
Casumo Casino – 100% to £200
Bet at Home Casino – 100% to £400
Betspin Casino – 100% to £200
Guts Casino – 100% to £400
Ladbrokes Casino – 100% to £300
Paddy Power Casino – 100% to £50
All Casinos to play: