Eye of Horus Slot Review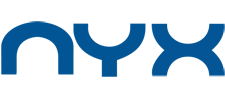 Play demo
Video review
Screenshots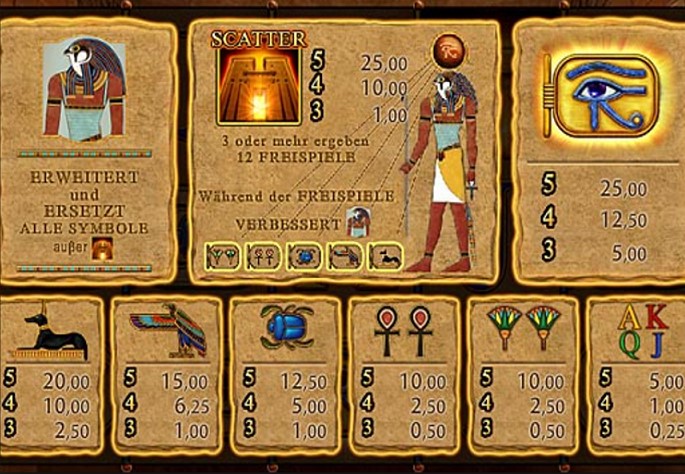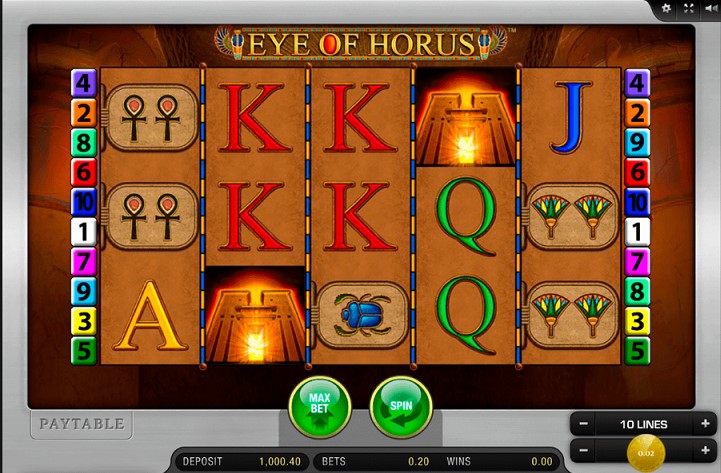 Try other slots
By this produser
By this theme
Features
Newest
The Eye of Horus slot has quite an interesting back ground which makes it a slot that is different to many of the other slots that are played online.
The reason being is that it is one of the most popular slots in land-based casinos, ie, the type of casinos that people used to go to before the internet was even invented.
The Eye of Horus slot is produced by Nyx Interactive and they developed it so that it could be played online as well as in land-based casinos.
Theme and subject
The theme of the Eyes of Horus slot is based on the subject of Ancient Egypt, but you may be surprised to know that the game was released online in 2016.
When you play the game, it seems that it is much older, in fact, it is extremely basic when compared to some of the slots that are out there which were actually released before the Eye of Horus.
The reason for this is because the main aim of the game is to be as realistic as possible to the land-based version of the Eye of Horus and that in itself is a masterstroke by Nyx Interactive.
Think of all the people who have played the game in land-based casinos over the years and who can now play the game in the comfort of their own home without the need to even walk out of the door.
Just as in the same way that some slot games have an Irish theme or a Thai theme, this game doesn't really need a theme as such but instead targets nostalgia and that is the reason why it is so successful.
It has to be said that the variance seems to be higher than you are led to expect as the losing runs can be long as well as somewhat frustrating but the potential of large wins from the bonus spins no doubt brings the variance down a little
Symbols and soundtrack
The soundtrack for the game as you would expect closely resembles that of an offline game that you may have played yourself at a casino and it would not be an exaggeration to say that the likeness is uncanny as you will see for yourself.
The problem with the Eye of Horus though is that if you take away the fact that the game is based on an offline slot, it falls short in terms of entertainment value when compared to many of the other slot games that are out there.
For instance, if you just opened up the game without knowing its history, it wouldn't be much of an exaggeration to say that you would probably be disappointed
When it comes to the symbols, there are the usual Jack, Queen, King, and Ace along with the special symbols which consist of the head of Horus, Eye of Horus, a scarab beetle, a couple of fans, a couple of ankhs and a Jackal.
The golden doors represent the scatter option in the game.
Bonus options
Before we get onto the bonus round we have to talk about the head of Horus because as soon as it appears on any reel it expands to make the whole reel wild.
This does actually happen quite often without resulting in a winning combination but it is a nice little extra to look out for and adds even more entertainment to the game.
When it comes to the bonus spins, they are triggered when three golden doors appear anywhere on the reels and this results in twelve free spins.
This is where it gets interesting.
It would be fair to say that the bonus spins will not be what you are expecting as they are capable of presenting the player with some very large wins.
As already mentioned, the regular gameplay is pretty boring so when the bonus spins appear they really do cause the heart to flutter slightly as the possibility of a big win could very well be just around the corner.
When the free spins start you should look out for the expanding wild because as soon as that appears the player is awarded one extra spin, if two wilds appear there will be two extra spins and if three wilds appear the result will be five extra spins.
During the free spins, Horus will turn random symbols into other symbols which also results in high payouts.
With wishing to exaggerate, some of the wins from these free spins can be quite astonishing so it is not difficult to understand why some serious players are not only prepared to play with big stakes but also endure the long losing runs.
Pros and cons
The Eye of Horus slot is yet another one of those games which you will either love or hate.
Recreational players with smaller bankrolls will probably look elsewhere for their slot playing entertainment and who in all honesty could really blame them.
For players though, who have been around the block a few times and know that losing runs are all part of the game, the Eye of Horus slot could very well be a game that they absolutely love.
Even the recreational player could be transformed into an Eye of Horus lover if they are lucky enough to sample some bonus spins and see their balance rise accordingly.
Here are some more pros and cons of the game
Pros
The possibility of winning big from the bonus spins
A wonderful game for those of a nostalgic nature and who can blame these players after experiencing the game in land-based casinos.
If you have played the land-based version of this slot you will find this version to be more or less exactly the same. Nyx Interactive has done an excellent job of recreating the game for online use.
Cons
There is a danger that many players will just play a few spins and then decide that it is something of a boring game.
The gameplay seems like a slot which has been around for far longer than the Eye of Horus actually has, and it could be considered that it is out of date
The variance of this game means that it would be very easy for those who are using higher stakes to lose a lot of money very fast.
Similar games
The Eye of Horus is a unique game due to its transition from land-based casinos, so it would be very difficult to find a similar game.
If you enjoyed playing the game because of the Egyptian theme it would be a good idea if you took a look at another Egyptian themed game and that is Cleopatra.
Cleopatra
Cleopatra is another popular game and as the variance is a little bit more agreeable than the Eye of Horus it will appeal more to the recreational player as the wins are more regular and there is also the possibility of some big wins from the generous bonus rounds.
There are now various different forms of the Cleopatra game but if you stick with the original you won't go far wrong.
Where to play
The Eye of Horus is not available at as many online casinos as you would probably have imagined but there are enough out there which so that you can sample the game.
When playing any online casino slot game, it is always a good idea to look out to see if there are any bonuses available which will enhance your gameplay.
It is important that you always check the terms and conditions associated with any bonus before you accept it but there are some excellent bonuses out there which will go a long way in increasing your chances of winning.
With that in mind, here is a list of online casinos which offer the Eye of Horus slot as one of their games along with the sign-up bonus of the casino listed next to it.
Bettson Casino – 100% to £50
Queen Vegas Casino – 100% to £500
Videoslots Casino – 100% to £100
Guts Casino – 100% to £500
Redbet Casino – 100% to £300
All Casinos to play:
Sorry, but we don't have casinos matching this criteria.