Fruit Warp Slot Review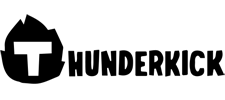 Try other slots
By this produser
By this theme
Features
Newest
Fruit Warp is a very unique and innovative video slot with a fruit theme, made by the game developer Thunderkick. And when we say unique, we do mean it, as there are not even any reels or paylines in this game. One might even ask oneself whether this even is a slot game, but it is highly enjoyable, full of action and really well-made. It is apparent that the Thunderkick team have worked hard on these graphics and the sound effects are really good too. This game can be played for free or with real money in most certified online casinos.
Theme, characters and environment
You will never forget your reaction to when you first start this game, as you will likely have a "huh?" look on your face – in a good way. This is a very minimalistic 3D slot with awesome graphics and a very straightforward set of rules. No paylines, no reels, no wilds, no scatters. Bets range from 0.10 to 100, and the game has a very good looking auto play feature as well.
Your only goal is to get as many fruits of the same kind as possible. You will have nine floating space fruits on your screen at all times. Getting a minimum of three of a kind gives you points. Four of the same kind grants a respin, and when you get five you enter the free spins bonus game. Different fruits have different values, and it is the dragon fruit that is the queen of fruits in Fruit Warp. We don't know if it the warp part of the title refers to some cosmic phenomena or if it is the player's mind.
History and background
We have seen cherries, lemons, oranges and strawberries on slot games since day one, so this is a very contemporary take on a solid concept. For some reason we all love to see fruits and sweets on our slot games, and it works well every single time. We just love how the team at Thunderkick managed to take this old school theme to a completely new level, or dimension… Doesn't it look like they are floating around in 0 gravity?
Theme and characters
The theme here is fruits in outer space and there are no unnecessary or strange symbols or characters, but it is just simply fruits. Maybe the prettiest fruits you have ever seen in a game though, as the graphics in Fruit Warp are very impressive. Thunderkick was started by a team of swedes and it seems as though this is a very Scandinavian game in the sense that the design is simplistic, functional, minimal and very stylish. That is something Swedish design is known for, so it makes total sense that they would deliver the smoothest fruit game we have ever seen on the online casino market.
Environment and atmosphere
As previously mentioned, this game is totally spaced out and has no reels or paylines, so you could say that it is closer to an arcade game rather than a video slot. The atmosphere in Fruit Warp is very relaxed and harmonious, with a really good soundtrack and pleasant sound effects. There is something about this game that brings the mind to Starburst, because it is so smooth and it is easy to go into a game trance here. You can also take it one step further and use the auto-play function in which you can easily set how many spins you want to do in auto-mode.
Symbols and soundtrack
Amongst the characters in Fruit Warp you have impeccably rendered fruits. Some common and some more unusual. They are gracefully floating in and out of the screen as you spin the non-existing reels. The dragon fruit is the most profitable symbol, as it rewards players up to 216-times the bet.
Cherries, grapes, strawberries, oranges
Starfruit, plums, bananas
Pitaya (aka dragonfruit)
Kiwanos (aka horned melon)
Special symbols
This game does not have a wild symbol or scatter symbol, since the free spins bonus game is activated depending on how many fruits of the same kind that you get. Although we are quite used to having wild symbols, this approach does create a very nice minimalistic aesthetic.
Music and sound effects
The soundtrack in Fruit Warp has a bit of a Hawaii feel, as it is smooth with some rhythms that can really get you in a nice groove. When the game is idle there are still some fun sound effects included in the sound loop that is so good that you don't even think about it being a loop. When you press the spin button and the fruits come flying there is a subtle sound effect that fades in and out. Each win triggers another soft digital sound that changes in pitch for each new win from that one spin. So, in conclusion, the soundtrack is what you would expect to hear on a sunny beach in outer space.
Bonus options
In this game the bonus features are triggered when you get at least four of the same fruit on one single spin. If you get four they remain during a respin, in the hopes of at least one more fruit of the same kind landing in front of you. When there are five of the same fruits on the screen the bonus free spin mode is activated. In this mode a nicely designed progress bar called Warp Meter appears and it is filled up with the fruits and credits that you receive during our free spins, collecting multipliers until you reach the end.
The Warp Meter
To move along on the Warp Meter you want to get at least one of the fruit that triggered the bonus mode, and you can also receive the heart that is in the middle of the scale, giving you an extra spin if you don't get a matching symbol. The dynamic multipliers increase in value for each win until they are activated and their value is locked. It is the number of symbols in a win that determines what symbol the multiplier will be.
Pros and cons of the slot
Fruit Warp has many good features despite the minimalistic game play. Just like Starburst, this is a game that is elegant and capturing in its simplicity, not boring or uneventful. The graphics and the soundtrack creates a gaming environment that is highly pleasant, and the experience is complete. There are no wilds and no bonus games, but it is ok. In this case it is simply not needed.
Pros:
Nice free spins bonus game
Creative and unique
Great autoplay mode
Cons:
No wild symbol or scatter symbol
No bonus game
Does not have progressive jackpot
Similar games
For more fruit themed video slots one can also try out Fruit Spin, Fruitshop, Super Hot Fruits and Spinning Fruits. Although it must be said that Fruit Warp truly is one of a kind for obvious reasons.
Where to play
This game can be played at certified casinos like Betsson Casino, Casumo Casino, Bet365, Cashmio Casino, ComeOn Casino and Betsafe.
All Casinos to play: