Irish Luck Slot Review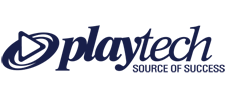 Game types:
Fairy tales slots
Nature slots
Play demo
Video review
Screenshots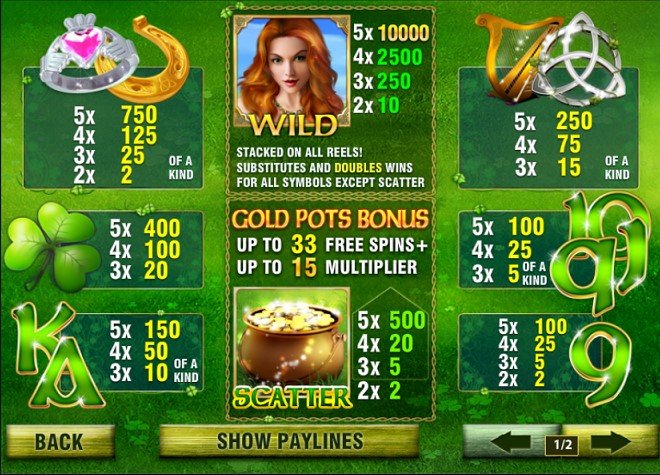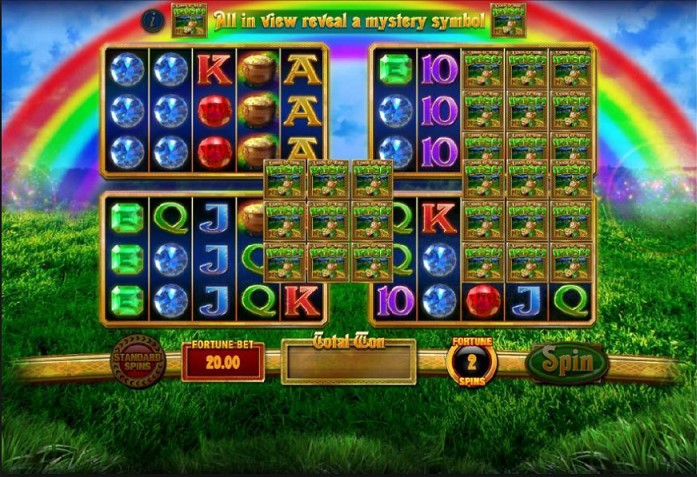 Try other slots
By this produser
By this theme
Features
Newest
The thing with an Irish themed slot is that you basically know exactly what you are going to get before you even load up the game.
This offering from Playtech is very similar to just about every other Irish themed slot that you have ever played but please don't think that is a criticism because it is most definitely not.
With the Irish Luck slot, you basically get what it says on the tin, a light hearted family orientated slot which is each to play and with the possibility of a decent sized win if your luck is in.
At the end of the day, that is surely what most people want out of an online slot, so it looks like Playtech, as usual, have come up with a very popular game which will stand the test of time.
Theme and subject
The Irish Luck slot is an easy to play slot with the usual catch soundtrack running in the background which will soon have your toes tapping to the rhythm.
As is the same with most Playtech slots, the gameplay is very smooth and not at all clunky.
There is nothing worse than playing a slot and having to wait for the graphics to catch up with the gameplay.
The reason for this is that the software producers have tried to be too clever and players who don't have the latest processors installed on their computers struggle to play the game as it should be played.
Playtech know their stuff though so this slot runs perfectly so that you can concentrate on the game itself as opposed to wondering exactly what is going on.
It would not be too much of an exaggeration to say that the Irish Luck slot is actually fun to play so that is half of the battle won for the producers.
If a player is also lucky enough to make a profit from their gameplay then it would have to be regarded as a match made in heaven, don't you agree?
Symbols and soundtrack
The soundtrack to the Irish Luck slot is the tried and tested formula of a jaunty Irish tune.
When you think about it though, what other kind of tune could be used?
This one is the same as every other Irish themed slot that you have played which is also accompanied by what sounds like the archetypical Irish pixie getting excited for every winning pay line which goes your way.
You will see an abundance of greenery in the form of what looks like a forest all around the reels and playing area, so you could say that the scene is set in order for the reels to start spinning.
When it comes to the symbols, the quality of the graphics is OK but nothing to shout home about.
They are not as crisp and defined as you might expect and to be perfectly honest, this is quite unusual for a Playtech game because their graphics are usually first class.
The symbols are made up of the usual nine, ten, jack, queen, king and ace along with the special symbols which are a traditional Celtic brooch, a ring, as gold horseshoe and the customary four leaf clover.
There is a red headed woman symbol which acts as the wild and a pot of gold symbol which is the scatter symbol, and this is used to activate the bonus round.
It should be noted that any winning pay line which includes the wild symbol will result in any winnings being doubled.
It is actually the graphics on the wild symbol which leaves quite a lot to be desired in terms of quality.
Whilst most players will nor give the quality of these graphics a second thought it is important to mention them in this review because to some players, poor graphics will mean they won't even entertain playing a particular slot.
Bonus options
There is only one bonus feature with the Irish Luck slot and it is understandable that some players might find this fact to be rather disappointing.
On a positive note though, this bonus feature can pay dividends if luck is on the players side so let's take a look at what it is all about.
The bonus feature is triggered when three of the gold pots symbols appear on any of the reels.
When this happens, the player is automatically awarded eight free spins but before these free spins begin, the player is also instructed to choose two pots out of a possible five.
There will be a good chance of more free spins as well as multipliers on offer and to give you an idea of the possibilities, there are a total of thirty three free spins along with multipliers up to fifteen times so what looked like a pretty mundane bonus option could quite easily turn into something that is especially lucrative, don't you agree?
That's not all though, if three more gold pots come into view during the free spins round the whole process will be re triggered.
This bonus adds a completely different spin to the game (pardon the pun!) and actually puts the Irish Luck slot ahead of many of the other Irish themed slots in terms of how lucrative the bonus could be.
Pros and cons
The pros and cons of the Irish Luck slot are numerous, and it is not difficult raise an argument for both sides of the equation.
Every player will have their own opinions, but it is funny how any player could be playing the most boring slot on the planet but if they won a decent amount of money on it they wouldn't have a word to say against it.
Definitely food for thought.
Anyway, let's take a closer look at the pros and cons of the Irish Luck slot.
Pros
A jaunty Irish slot which will appeal to all players who love this theme.
Possibility of some big wins during the free spins round
The variance isn't too bad to players should get a good run for their money
A very easy game to play with a soundtrack which will get your feet tapping along
Cons
During normal gameplay the slot could be described as being a little on the boring side
The graphics on some of the symbols are not as crisp as they could be
The game is starting to look just a little bit dated
Some of the other Irish themed slots are more appealing to the average player.
Similar games
It is usually the case with Irish themed slots that the reason many players enjoy playing is because of the theme.
With that in mind, if you enjoy playing the Irish Luck slot you would probably enjoy a Barcrest classic, Rainbow Riches.
To be honest, five minutes playing Rainbow Riches will highlight the inadequacies of the Irish Luck slot.
The graphics are superb, there are three bonus options to keep you interested and there is always the possibilities of some big wins.
If you like Rainbow Riches, then you will love Rainbow Riches Pick n Mix which is also obviously produced by Barcrest.
Most of the same symbols appear in this slot with the big difference being the Big Bet feature which is not only highly entertaining, but which can also be especially lucrative.
Where to play
The Irish Luck slot is another game which many online casinos are able to offer.
There are a list of these casinos below along with the sign up bonuses that they offer, and which can be used when playing the Irish Luck slot.
As always, take care to read the terms and conditions which are attached to these bonuses but as a rule, they can really add to the value of your gameplay and male your Irish Luck slot playing experience even more enjoyable.
Bet385 Casino – 100% to £100
Come On Casino – 100% to £50
Sporting Bet– 100% to £200
Mr Green Casino – 100% to £100
Mobilebet Casino – 100% to £100
Gala Casino – 100% to £100
Paddy Power Casino – 100% to £50
All Casinos to play: