Montezuma Slot Review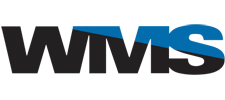 Game types:
History slots
Jewels and Gems slots
Other slots
High Limit slot machines
Play demo
Video review
Screenshots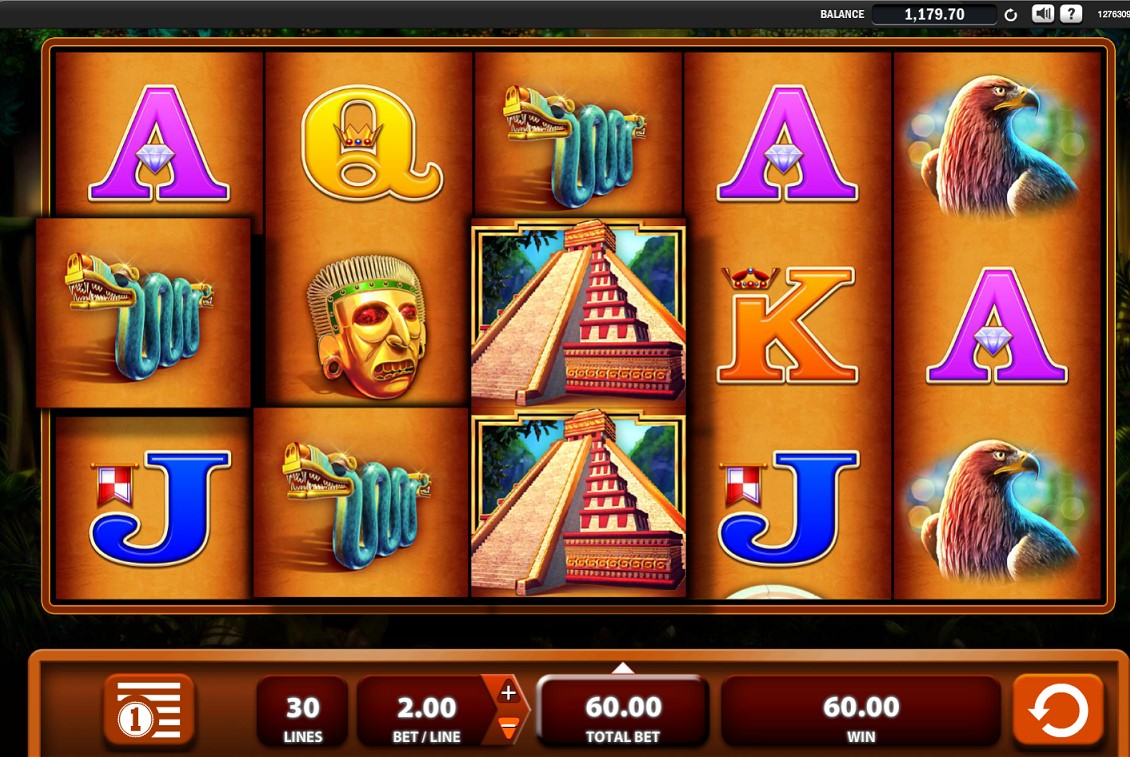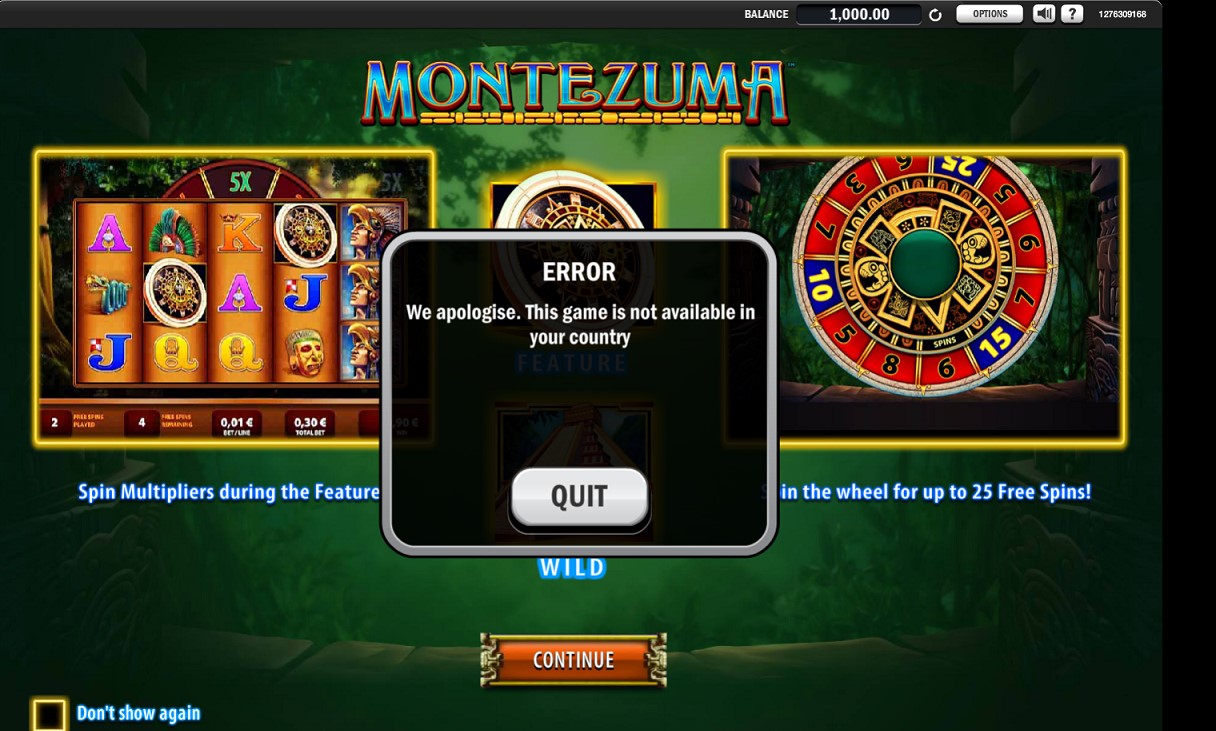 Try other slots
By this produser
By this theme
Features
Newest
If you were to carry out a survey regarding the favourite slot of casino players from around the world then the Montezuma slot would be rated up there with the best of them.
This offering from Williams Interactive Software (WMS) has not only stood the test of time but is gaining more and more enthusiastic fans as time goes by!
Theme and subject
The theme of Montezuma is set in the Amazon jungle and it has to be said that the soundtrack does a great job of setting the atmosphere.
Even when you just have the game open but are not playing, the sound of the jungle in the background is actually quite relaxing.
The Montezuma slot was released by Williams Interactive Software back in 2014 but it seems like it has been around for much longer than that, probably because it is such a popular game.
Even though it has only been in existence for around four years, that could be regarded as a lifetime in terms of casino games, but the graphics and visual effects are holding up well even though some players will no doubt regard them as being a little dated.
As far as the symbols go, you get the usual Ten, Jack, Queen, King and Ace as well as the special symbols which relate to the Aztec theme of the game.
These symbols consist of an Eagle, an Aztec Head Dress, an Aztec Golden Mask, an Aztec Snake. Montezuma's wife and the big one which is Montezuma himself.
The wild symbol is the Aztec Pyramid with the trigger for the free games bonus being the Aztec Wheel Scatter.
Symbols and soundtrack
Montezuma is a decent game to play but you would have to admit that if it was not for the highly lucrative bonus round which we will talk about later, it could be described as being a little bit on the boring side.
The variance is quite high which means that you could churn through your balance in pretty quick time as the wins are few and far between.
What is usually the case for many of the casino players who have fallen in love with Montezuma is that they have experienced the adrenalin rush when the bonus round hits and they are continually looking for another hit.
It would be a little extreme to say that this slot is like a drug in that you are always looking for another hit to feel a similar high but anyone who has experienced a winning bonus round on this slot will no doubt have a wry smile on their face as they are reading this review.
The game is extremely easy to play and consists of thirty pay lines set over five reels and you can play up to a maximum of £150 per spin although unless you are a big-time player, going in this big is not to be recommended.
There is an auto play feature which some players prefer to use but you should be aware that it is not as sophisticated as the auto play which is available on Microgaming casinos.
It is just a case of choosing how many spins you want to play up to two hundred, but you should be careful if you are intending to play with larger stakes as there is not the facility to limit any losses.
Bonus options
If you were reading a number of slot reviews in order to decide which game to play you could quite easily be put off from playing Montezuma when you realise that there is only one bonus feature, no other bonus rounds of any description.
If you decided not to play the game du8e to that fact alone you would be making a huge mistake because as already mentioned, the Montezuma bonus round will blow your mind and it is quite possible to win large amounts of money when the bonus is triggered.
The bonus is triggered when three Montezuma wheels appear on the reels but one thing that should be pointed out is that there is nothing dramatic when they do appear.
You will be aware that with some of the more recent slots, if three symbols are required in order to trigger the bonus round and three two appear, the remaining reels will be highlighted and start to spin really slowly with the soundtrack getting louder and louder (usually leading to disappointment when the required symbol is not landed.
With Montezuma, there is none of that, when the Montezuma wheels appear you will find yourself looking twice because they drop so quickly without the need for any dramatics.
When the bonus is triggered, a wheel is spun which will determine how many free spins the player will be awarded.
This number is anywhere between three and twenty-five and if you are lucky enough to land another two Montezuma wheels in your free spins you will be awarded more free spins.
At the end of every free spin, another wheel will be spun which will determine how much the win from the spin will be multiplied by.
It doesn't take much imagination to see that the wins can soon mount up and that it is why it is worth persevering through the sometimes boring game play just in case the big win comes your way.
Pros and cons
As with most slot games, what could be one man's favourite could be another man's worst nightmare of a game.
Montezuma is more than likely a slot which people love because of the opportunities which arise from the bonus game but which they also find to be a little on the boring side during the regular spins.
With that in mind, let's take a look at the pros and cons of the game
Pros
Very easy and straightforward to play.
The soundtrack is not only relevant to the game but also extremely relaxing
The ability to play with both small and large stakes which will appeal to players of all levels.
Cons
The variance is high which means that you can play for long periods without even getting a sniff of a decent sized win
The auto play feature is very basic (as with most WMS games) and this could be problematic due to the fact that the player is unable to limit their losses.
Even though the game was released in 2014 it is already started to feel a little bit dated.
Similar Games
If you love Montezuma you will definitely enjoy playing Raging Rhinos
Raging Rhino Slot
This slot has also been developed by Williams's interactive software and can probably regard as the next step up from Montezuma.
It looks and feels remarkably similar, but the main difference is that there are 4,096 ways to win which is an obvious plus point.
The bonus rounds also offer unbelievable opportunities to get a decent sized win, so it stands to sense that it has all of the attractive attributes of Montezuma and will appeal to the same kind of player.
Where to play
Montezuma is not available at as many of the casinos as some of the other games that are out there, but you won't struggle to find the game if you know where to look.
It makes sense that you take the time to see if there are any sign-up bonuses (or any kind of bonus for that matter) to make your gameplay at Montezuma potentially more lucrative but as with all bonuses, it is important that you take the time to read the terms and conditions before taking advantage of them.
With that in mind, here is a list of casinos which allow you to play Montezuma along with the sign up bonuses that go with them
All Casinos to play: