Reel Rush Slot Review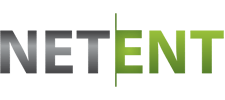 Game types:
American slots
Nature slots
Old slots
Play demo
Video review
Screenshots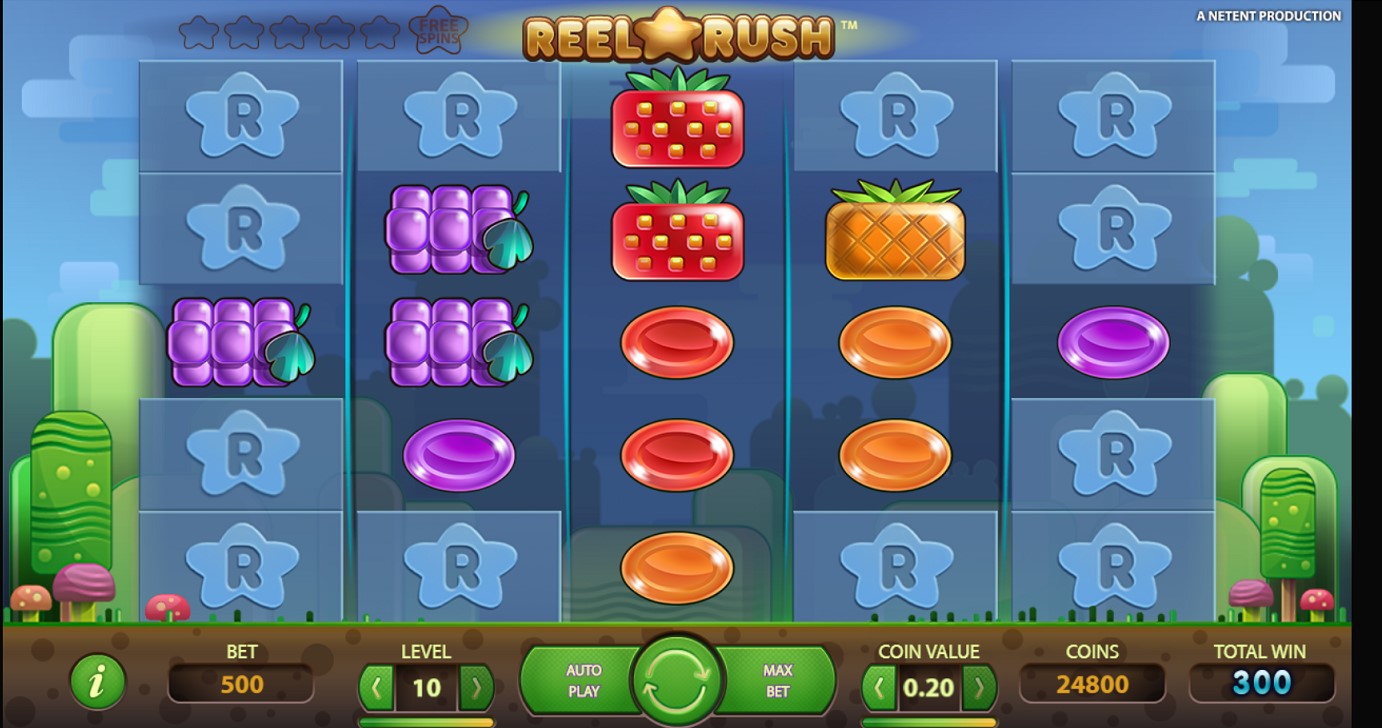 Try other slots
By this produser
By this theme
Features
Newest
Reel Rush is a very simple slot with basic but really good graphics, a 90's video game feel and a soundtrack that can really get you in the game zone. There are up to 3125 ways to win, with the possibility of winning as much as 480 000. And when these reels start spinning the bonus game doesn't seem to be far away, with joyful free spins in a plethora of winning possibilities. Developed by NetEnt, which are known for more complex slot games, this is a superb take on a catchy and happy slot game.
Theme, characters and environment
The theme and the sound effects in Reel Rush brings back memories of the Italian plumber and his mushroom worlds. And this is of course a good thing, as those are indeed good memories. This is however a world of shiny bright fruits and candies.
Reel Rush has a bonus game, a wild symbol and an autoplay option. There are also free spins available. But there is no progressive jackpot, no scatter symbol and no multiplier. But as you go ahead and play the game we can almost guarantee that you won't care about having a scatter or a multiplier, because the game is very full of action, despite not having those extras.
Game setup
The full game setup is a 5 x 5, but the game starts with it being partially closed down, at 1-3-5-3-1. In this setting there are 36 ways of winning. Each consecutive win opens up 2 more positions, with also leads to more possibilities of winning. Another great function in this game is that the reels respin automatically for free after every win, which creates a fast and fun gaming experience, In the full 5×5 active reel setup the player has 3,125 ways to win. The respins opens up the game and with the first respin there are 135 ways to win. The game then increases the opportunities in the following manner:
Second Re-Spin – 405 ways to win
Third Re-Spin – 675 ways to win
Fourth Re-Spin – 1125 ways to win
Sixth Re-Spin – 3125 ways to win with 8 free spins activated
In Reel Rush players can really choose how to place their bets, with the help of a variety of options. This video slot has 10 different bet levels and 5 coin values, from 0.01 – 0.20. With a wide range like this, players get the opportunity to choose for themselves, which is always a great thing. Each bet level increases with 50 and it goes up to a maximum of 500.
Environment and atmosphere
Reel Rush is a fun, exciting and playful game that can make you really happy. The sounds and the vibrant colours really has a way of putting you in a good mood – especially when the wins and the free spins start rolling in. Since it is a NetEnt game, you can imagine how well designed the graphics are, and that really adds an aesthetic smoothness and a feel good quality to the game.
The background of the game is set against a city landscape á la 90s video games, and yes, there are some huge mushrooms and blue clouds there too. It is well made, sweet and pleasant to look at. The game's two main colours are blue and green, which sets a very calming backdrop to a fun game full of activity and heart pumping sound effects.
Symbols and soundtrack
In the spirit of simplicity, all symbols are vibrant in colour, being either fruit shaped candies or hard-boiled sweets. This game has one single special symbol in addition to the sweets, and it is a gold plate with the word "Wild" imprinted on it.
Amongst the symbols we find the colours yellow, orange, green, red and purple sweets, plus the sort of square fruit icons of a strawberry, a pineapple, a lemon, some grapes, a plum and a watermelon.
Music and sound effects
The background soundtrack is a soft electronic track, which lays a nice foundation for the sound effects we all recognize from the 90's video games. It doesn't take long before you are in the "zone" and spinning away feeling good about the pleasant gaming experience. In a simple game such as Reel Rush is very crucial and NetEnt has really hit the spot.
Bonus options
Reel Rush has a fantastic bonus game that can make the heart race. It is the combination of great sound effects, lots of winning opportunities and happy graphics that makes the bonus game such an exhilarating experience.
Bonus game
The bonus game with the free spins round is triggered when a player gets 5 consecutive wins in a row. This is when 8 free spins are activated in the full 5×5 and the likelihood of the wilds popping up and bringing a real party is high. Once you get one win you might find that it just keeps on growing like crazy, with fireworks and shooting stars bringing that extra graphic zest to the experience. This is the place where mega wins are possible.
Wild symbols
We all love the wild, and in this game it comes in the form of a golden plate with the word 'wild' imprinted on it. This symbol lightens up when the game has a winning combo and that is what we want. The Wild symbol can replace all other symbols to complete the best winning combinations available.
Scatter symbols
As mentioned previously there is no scatter symbol in Reel Rush. The scatter symbols are usually very sought after, but because of how this game is constructed there is really no need for a scatter symbol. It is actually quite refreshing to look at a set of video slot reels with a cohesive aesthetic that doesn't take too much attention away from the actual gaming experience and the wins, instead of a busy palette of colours and shapes.
Pros and cons of the slot
We totally understand why this game is so popular amongst players, since it has all the components necessary in a hit game. It is no surprise that this game comes from NetEnt and it is honestly a bit hard to find any cons about this game, but it could be argued that it is a bit on the simplistic side, especially if you are into more complex and challenging video slots.
Pros:
Incredible winning opportunities
Catchy and well-designed
A very pleasant experience
Good RTP at 97%
Cons:
No scatter symbol
No multiplier symbol
Bets start at 0.50 per spin
A bit simple for those who like complex games
No progressive jackpot
Similar games
Reel Rush is a very unique game, but for more vivid colours and sweets, one could also try out Candy Crush and Starburst. Fruit Spin could also be a choice to consider.
Where to play
If you are ready to spin the rushing reels you can find the game at many certified casinos, like Casino Cruise, Casumo, Videoslots, Bet365 and Maria Casino for example.
All Casinos to play: