Ronin Slot Review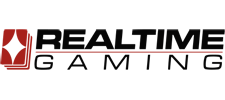 Game types:
Action slots
History slots
Mystery slots
Progressive slots
Play demo
Video review
Screenshots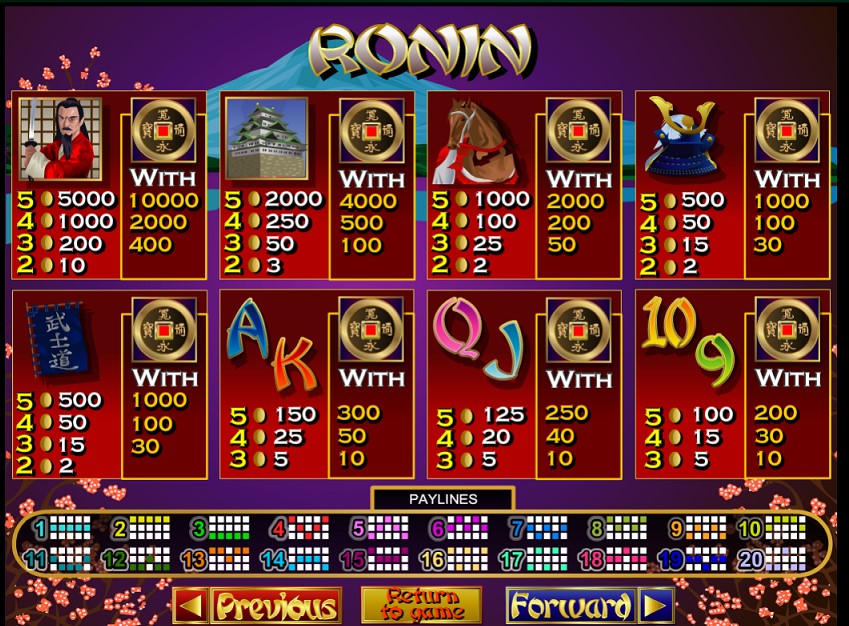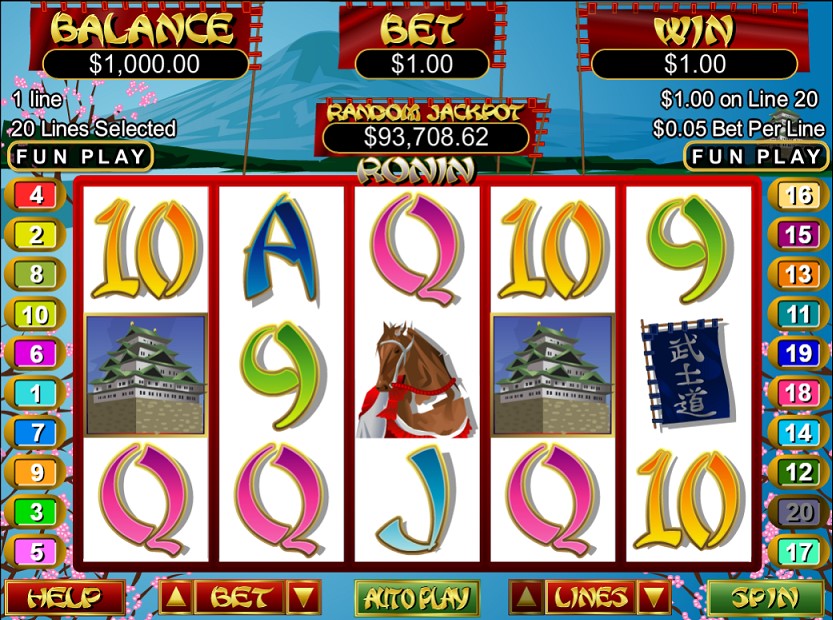 Try other slots
By this produser
By this theme
Features
Newest
If there was museum of old slot games then the Ronin slot would more than likely take pride of place.
When you load the game up for the very first time it will bring a smile to your face due to the fact that it looks so old and out of date.
That is not being cruel, just an observation and whilst some people might play this game for old times sake, the chance of anyone choosing the Ronin slot over some of the wonderful slot creations that are out there must be very slim indeed.
Theme and subject
To give you an idea of how dated this slot is, it is actually difficult to tell what the theme of the game is apart from it having an Asian feel and you can only tell that because of the style of the text which sits above the reels.
If you want to know what playing slots was like only a few short years ago you should at least have a go on this one because at the time, the Ronin slot by Real Time Gaming was up there with the best of them.
Symbols and soundtrack
The soundtrack is pretty non-descript but it is the kind of background music you might experience if you are sitting in a low end Chinese restaurant.
This is another indicator of how the industry has progressed because Real Time Gaming usually come up with some superb soundtracks but this one just sounds mundane and dated.
The symbols consist of the usual ten, jack, queen, king and ace as well as a few Asian related symbols such a temple and an Arabian horse and the two bonus symbols are Ronin and Koku
Bonus options
The main bonus consists of up to twenty five free spins with a three times multiplier so if that lands you won't care what the overall impression of the slot looks like, but it has to be said that these free spins are pretty rare.
The same scenario arises again doesn't it, some players will be more than prepared to grind it out on the Ronin slot in the hope that the bonus lands and if it does it will be the best slot since sliced bread, in their eyes anyway!
Where to play
You will usually find that whilst Real Time Gaming slots are available at a wide choice of online casino's, it is usually the lesser known casino's which offer the game.
Most of these casinos offer a sign up bonus which you can use to play the game but it is always advisable that you take the time to check the terms and conditions which go hand in hand with these bonuses.
It would be a good idea to remember the old adage, 'If it looks too good to be true, it probably is!
The list below will help you to find a casino which offers the Ronin slot and the bonuses which they offer if you have not played there before.
All Star Slots Casino – 100% to £200
Asia Bodog Casino – 100% to £200
Casino Extreme – 100% to £200
Intertops Casino– 100% to £100
Jackpot Capital Casino – 100% to £200
Slotastic Casino – 100% to £300
Silver Sands Casino– 100% to £100
All Casinos to play: