Thunderstruck Slot Review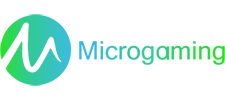 Game types:
Holidays slots
Re-spins slot machines
Play demo
Video review
Screenshots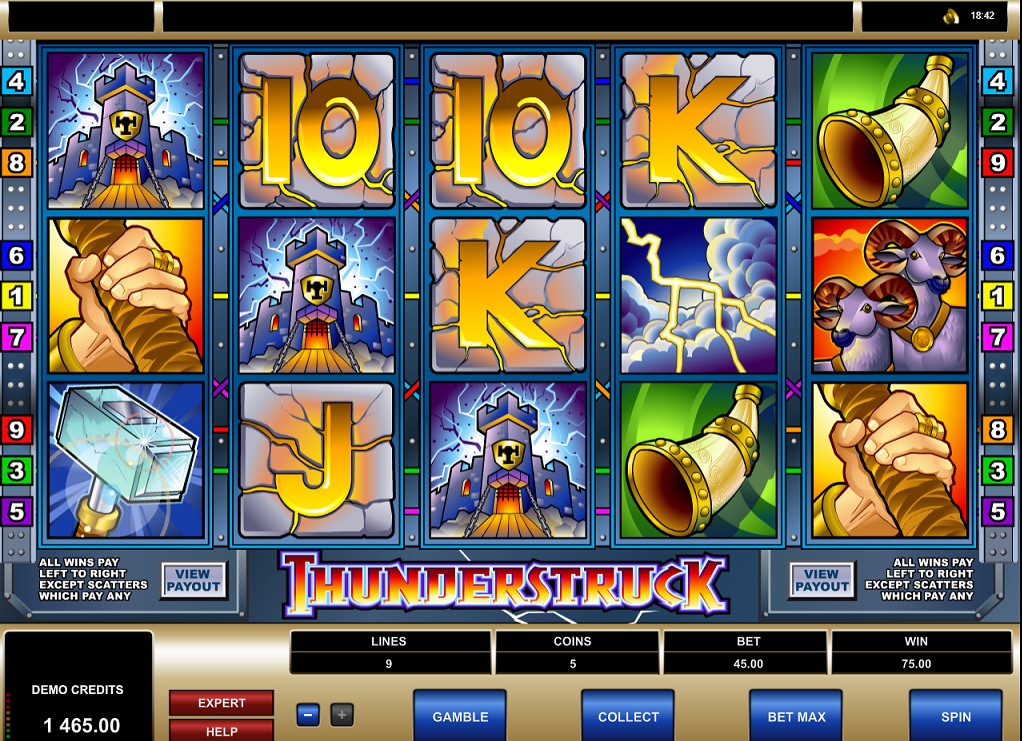 Try other slots
By this produser
By this theme
Features
Newest
A slot classic in every sense of the word, Thunderstruck is a fine example of a slot which has stood the test of time and even though it is now a little dated, it is still an extremely popular game.
This is the slot which really put Microgaming on the map and when you take into consideration that it is still going strong fourteen years after its introduction, it says an awful lot about the Microgaming developers who took a risk by introducing this game to the masses.
Theme and subject
The theme of Thunderstruck is based on Norse mythology with the soundtrack complementing the theme perfectly.
The symbols consist of the usual Nine, Ten, Jack, Queen, and King along with the special symbols such as Thor's hand, his hammer, a hunting horn, bolt of lightning, the castle of Thruthvanger and the Ram scatter symbol.
It would have to be said that Thunderstruck is something of a strange game to play and not for any particular reason.
You seem to get the feeling that something is about to happen, whether that is the bonus round or just a small win, it is hard to put your finger on it but the gradually rising crescendo whilst playing the game is certainly enough to make you want to keep on trying your luck.
You also have to take your hat off to the developers at Microgaming for having the foresight back in 2003 to put this game out there to the masses.
Symbols and soundtrack
When you look at the pay-out percentages for Thunderstruck you would fully expect the variance to be about average but if you start playing the game with that thought in mind you will probably end up being disappointed.
The variance is actually quite high, you can go for long periods without even getting the sniff of a win, but you would be mistaken in thinking that this would make the game less enjoyable and something of a slog.
Actually, nothing could be further from the truth.
The game plays very quickly and as there are no real visual distractions apart from the reels spinning, it is just a matter of hitting the spin button every few seconds.
Anyone who is a large stakes player will need to have nerves of steel because it would be easy to work your way through your bankroll within only a few minutes and that is not an exaggeration.
If you are a small stakes player and would like to sample the delights of Thunderstruck, you are in luck as you can start with stakes as low as nine pence. (UK currency)
Thunderstruck also has a gamble feature which will appeal to some players.
If you choose this feature it is basically a playing card and you bet on whether it will be black or red and if you are feeling a little more adventurous you can bet on the suit of the card, Spades, Diamond, Heart or Clubs.
Playing the gamble feature sometimes gives you a little bit of a breather as it is a lot slower than the frantic spinning which you will experience in the main Thunderstruck game play.
Another feature worth mentioning which is actually available with most Microgaming slots is the expert option.
The expert option is basically the ability to set up your pre-determined stakes, hit the start button and Thunderstruck will basically play by itself.
This feature is known as auto play.
Players who use this facility for the first time are usually fascinated by how it all works but a warning regarding auto play should most definitely be heeded when playing Thunderstruck.
When setting up auto play you will notice that there is the option to stop the auto play when a level of losses (or winning for that matter, have been reached)
In the case of Thunderstruck, as it plays so quickly, let's look at the scenario where you have a large balance in your account and you set up Thunderstruck to auto play a large number of spins with the aim of stopping after a few minutes.
If you get distracted you could go back to the game and find that your balance is zero (admittedly, the balance could also be significantly larger, but it is always better to be safe rather than sorry)
Bonus options
The bonus feature on Thunderstruck is about as basic as it gets but that doesn't make it any less exciting.
If you get three Ram scatter symbols anywhere on the reels you will be awarded fifteen free spins.
It would be fair to say that a player will get a surge of excitement when they get the bonus feature in any slot game but with Thunderstruck it seems to be more intense.
The reason for this is because the bonus spins are usually few and far between but when they do occur, Wow!
Something else which is quite different about the bonus feature on Thunderstruck is that there is not the usual build-up to the bonus.
When the bonus is triggered, the game will stop, and you have to hit the start button for the bonus spins to start but that is about it.
It is at times like this when you really notice the limitations of the graphics on Thunderstruck, that is not a criticism but more of a fact.
What can and does happen more than you think during the free spins is that the Rams can appear again, triggering a further fifteen free spins and this can obviously result in any winnings soon mounting up.
It should also be mentioned that any win during the free spins is subject to a three times multiplier, so it is quite possible to experience some large wins from the bonus rounds.
If you also get the Thor wild during a winning spin it will result in two times the winnings on a pay line so that is yet another reason to get excited about Thunderstruck.
Pros and cons
Thunderstruck is yet another one of those games that you either love or you hate.
It would have to be said though that most people, especially those that have been involved in playing at online casinos for more than a few years will absolutely love it.
With that in mind though, let's take a quick look at the pros and cons of the Thunderstruck slot.
Pros
An all-time classic which is showing no signs of losing its popularity
The winnings can soon mount up during the bonus rounds.
Even though they are now dated, the soundtrack and graphics still do their job perfectly.
The auto play feature enables you to sit back and enjoy the gaming experience
Cons
Younger players may find Thunderstruck to be a little on the boring side.
The variance is high, so it is more than possible to experience long losing streaks which could quite easily put some player off from playing
There is no getting away from the fact that the graphics are somewhat dated.
Similar games
If you are looking for similar games to Thunderstruck you won't go far wrong by taking a look at another classic from Microgaming, Mega Moolah
Mega Moolah
Mega Moolah is probably the most famous slot that Microgaming has introduced and it has the added attraction of a progressive jackpot.
It is probably more fun to play than Thunderstruck due to the added bonus features and it would also be fair to say that the graphics, as well as the soundtrack, are more advanced.
Big wins are more than possible on this slot and the lower variance will appeal to the players with a smaller bankroll.
Where to play
Thunderstruck is available to play at a large number of online casinos where you will also be able to find your other favourite Microgaming games.
Most casinos have sign up and regular bonuses available to their players, so it is always worth taking the time to see what is available.
These bonuses always come with terms and conditions so make sure that you read them first before accepting a bonus.
With that in mind, here is a list of casinos which allow you to play Thunderstruck along with the sign-up bonus that they are offering.
Unibet Casino – 100% to £100
Pink Casino – 100% – £150
Ladbrokes Casino – 100% to £300
Mr Smith Casino –100% to £100
Foxy Casino –100% to £200
Casino Euro – 100% to £100
All Casinos to play: