Triple Diamond Slot Review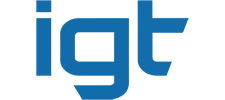 Play demo
Video review
Screenshots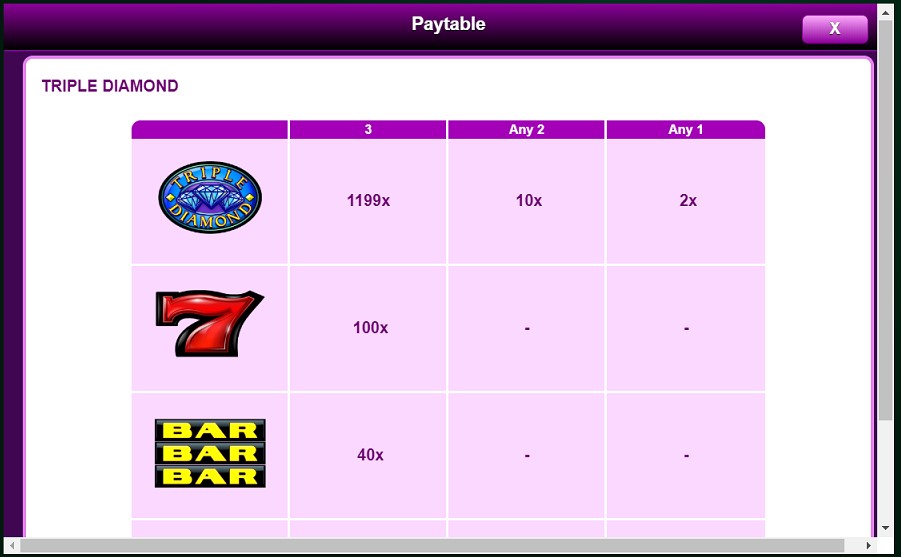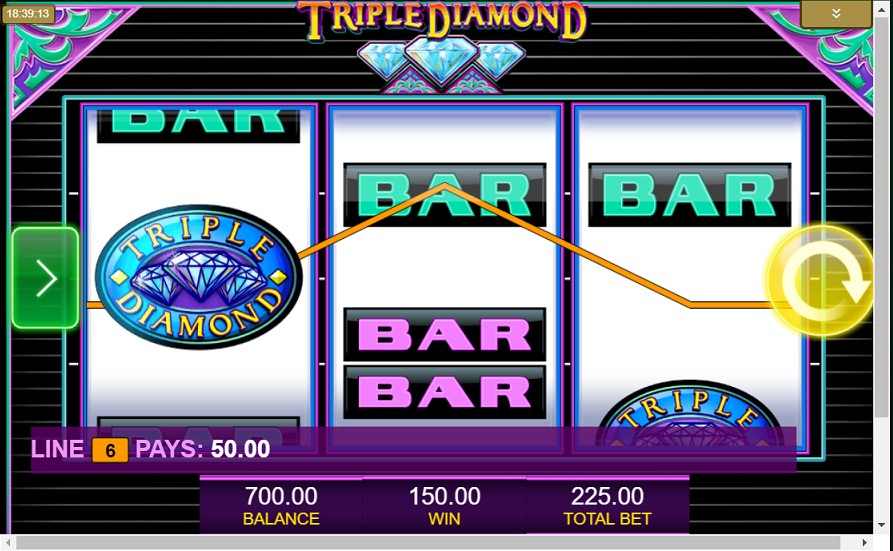 Try other slots
By this produser
By this theme
Features
Newest
Now, when you have a slot game that comes with great animations and graphics, coupled with progressive elements and a background story that is exciting enough, you would have bought over the modern day casino players. But, what if you incorporate all these qualities into a 3 reel classical fruit machine? Research has shown that games of this nature still make more waves that those that are overly modern. That is what IGT have tried to recreate in the Triple Diamond Slots. Here is a 3 reel and 9 pay-lines online casino slot that has the look, feel and attributes of the old classic fruit machine in the traditional land based casinos. There are diagonals, straights and V-styled lines. The symbols are all classic symbols too.
One of the most unique things here are the credits to wager and earn, and they include dime, nickel and quarter pay choices. In a single spin, you can wager up to 45 credits. It has a mechanical lever and there are backlit symbols. It is a sequel to the old Double Diamond Slot, with the semblance of the Power Panther, Da Vinci Diamonds and the Double Da Vinci Diamonds.
Coming from IGT, nobody doubts its quality. This is because they've been doing this for a very long time, and they've never failed to come up with top notch games. They are so popular on the modern classic slots with 3 reels, and they have many of such games in the market.
Theme and subject of this slot
The theme of the Triple Diamond Slot is that of the classic/fruit machine. It exemplifies the type of slot games that were played in the traditional machines, but with modern attributes and more generous pays.
History of creation of the game
The history of the Triple Diamond Slot simply reveals that the IGT gaming group has been creating the diamond series for a long time. For this type, they have the Double Diamonds that came before it. But the Triple Diamond Slot was launched on 1st of January 2005.
Theme and characters, symbolics
The characters and symbols here are all those of the fruit machines. They include the three 7s, the three yellow bars, the three blue bars, the three black bars, and the three purple bars.
General atmosphere and impressions
When you play the game, you will enjoy the quality of gameplay. It's just up there with the best. Even though it's a classic slot, it runs smoothly and faster than other games. The number of wins you will hit here may not be as rampant as in the exclusive modern games. But when you hit them, you enjoy good wins. It looks like a holograph on the background, and this delivers great gameplay.
Pros of Triple Diamond Slots
Up to 1,000 credits payout
The invaluable classic feel
Sound and graphics are good
Wild symbol
Cons of Triple Diamond Slots
No bonus rounds
No free spins
No multiplier/auto play
No scatter symbol
No progressive jackpot
Symbols and soundtrack
Another great thing is that IGT placed the triple diamond slot on the IGT's S2000 platform from here people a enjoy it, and here, you will enjoy it with a very sweet stereo sound. It also comes with a mechanical lever by the side, plus backlit symbols.
Special symbols
The only special symbol in the Triple Diamond Slot is the Wild symbol and the Triple Diamond Symbol. There is no scatter symbol or other special and huge paying symbols because this is a classic slot.
Winning combinations
You gain winnings in the Triple Diamond Slot by hitting the symbols. For a Triple Diamond Symbol, you earn 2 credits, when you get two, you earn 10 credits, and when you get three, and you gain 2,000 credits. If you get the three on the 9th pay-line, you gain the biggest prize, which is 25,000 credits.
Bonus options
There is only one bonus game here, though it may not be described as a bonus round. The bonus game is the Triple Diamond Symbol. This is available on all levers and it is the most important symbol in the game. With 1 of this on your win, you gain a 3X, with 2, it's a 10X, with three, it's a jackpot, and it pays 1999X.
Wild Symbols
There is a wild symbol here, and we've not discovered whether it acts as the normal wild symbol that replaces other symbols for a winning to occur. The only symbol that gives such winnings is the Triple Diamond Symbol.
Where to play
You can enjoy this IGT slot game at Guts.com, LeoVegas casino, Mr. Green casino, and other IGT casinos.
All Casinos to play: