Zuma Slot Review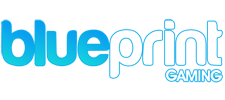 Play demo
Video review
Screenshots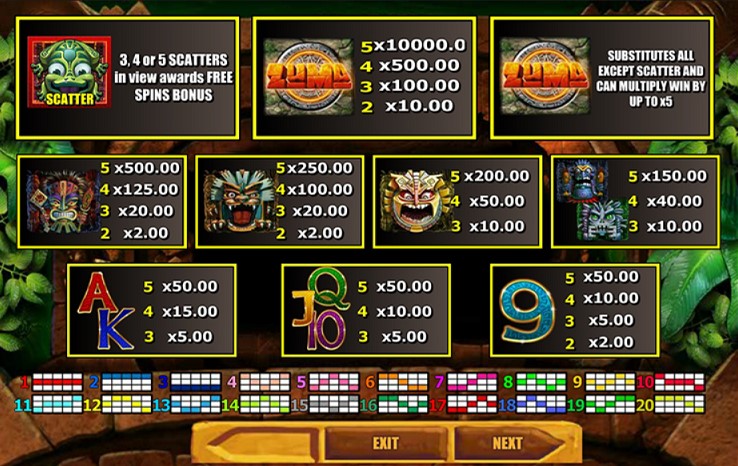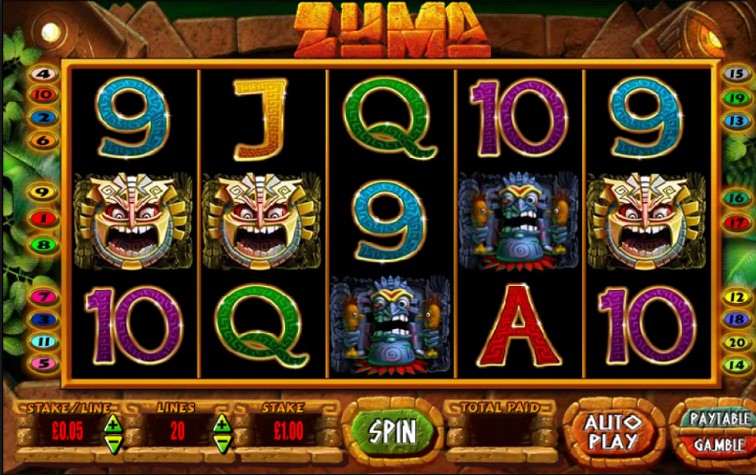 Try other slots
By this produser
By this theme
Features
Newest
If you have been a computer games buff in a past life you will be having kittens if you ever play the Zuma slot game which has been produced by Blueprint Gaming.
All credit has to go to Blueprint for the way that they have successfully adapted what has always been regarded as a PC classic.
It has also been a hugely popular offline arcade game and if you grew up in and around the streets of the UK there is an excellent chance that you will be familiar with it.
Theme and subject
If you are familiar with the Popcap classic from your arcade or PC days then this wonderful game will not require much of an introduction.
The theme can best be described as being set on a Pacific island but instead of relaxing on the sun kissed beach your main concern will be to avoid the natives who seem to get great delight from flashing their gruesome looking teeth at all and sundry.
The Zuma slot is an extremely enjoyable and easy game to play.
A question that many people ask is 'how you can say that a slot is easy to play' when of course it is easy to play, all you have to do is sit back and press the start button and any other options are not exactly requiring the expert knowledge of a brain surgeon!
That is a fair comment to make but some online slots require far more concentration.
These games can't exactly be described as being relaxing but that is exactly what the Zuma slot is.
It is very rare to see an example of a hugely successful computer or PC game being able to make the necessary transition to an online casino.
That is exactly what has happened here though, and all credit must go to Blueprint Gaming.
They have done a wonderful job which must have been extremely difficult to do at the extraordinary level that they have been able to achieve.
Hats off to them!
Symbols and soundtrack
The soundtrack to the Zuma slot is perfect, absolutely perfect.
If you take the time to sit back and listen when the game has loaded up and let your imagination run wild for a while you can actually sense that someone is hiding behind a tree waiting for your next move so that they can aim something horrible at you from their blow pipe.
It is one of those soundtracks which you could listen to without even playing the Zuma slot but when you combine the two the result is sheer perfection.
If you have played the Amazon Wild slot before it is very similar to that, even though the theme of that game is the Amazon and this one is a Pacific Island.
Anyway, back to the symbols.
This is another extraordinary feat by Blueprint Gaming because the symbols and general quality of the graphics are about as crisp as it is possible to get.
How often have you played a slot with the thought that the quality of the symbol graphics doesn't really matter but when you have been playing for a little while it all starts to get just a little bit annoying.
Well, you won't experience that kind of problem with the Zuma slot because the quality of the graphics is nothing short of perfection.
That statement might sound a little over the top, but credit must be given where it is due, don't you agree?
The symbols consist of the usual Ten, Jack, Queen, King and Ace along with a mixture of suspicious looking characters which look just a little too vicious for most people's liking.
There is also a green frog symbol which represents the scatter symbol and the famous Zuma symbol is the much sought after wild.
Bonus options
Before we go on to talk about the free spins it is worth touching on the gamble featre which is available on the Zuma slot.
It is usually the case with a gamble feature that you have the option to gamble your winnings on whether a playing card is red or black or if you want to take more of a risk, what suit it will be, diamonds, spades, clubs or hearts.
This gamble feature is different though in that a new set of four reels are displayed, each one represents a multiplier of either two, four, five or ten times.
If you win you have the option of keeping on gambling but if you lose it is back to the regular play.
If you are someone who likes to gamble up on their winnings, make sure that the 'Gamble on' is highlighted which can be found underneath the reels.
If it is not, you won't be offered this option.
The free spins option is perfect in its simplicity because it is triggered when the player gets three or more frogs on any of the pay lines.
When this happens three Tiki bosses will appear, and the player is invited to shoot one of them.
This will reveal the number of spins that the player has been awarded.
The free spins can then be enjoyed but there is more excitement to come because when the free spins have been completed, another four Tikki bosses will appear and again the player will be invited to shoot one of them.
This will reveal a number which will be the amount that the winnings are multiplied by.
Just as you thought that the excitement couldn't get any greater, more free spins can be triggered during the free spins.
Pros and cons
The Zuma slot is a great online slot, no doubt about that but as usual, some people will love it some people will hate it, and some will be able to either take it or leave it.
With that in mind and to perhaps help you to come to your own conclusions, let's take a look at the pros and cons.
Pros
A superb transition from the original Popcap classic which you may be familiar with
Vet quick and easy to understand game play
Graphics which are of the very highest quality
A soundtrack which can quite literally transport you to a Pacific Island
Cons
To some players the Zuma slot could be described as being slightly outdated
The free spins round is not as advanced as it is with some of the more modern game
The variance and small wins may not appeal to the more serious players
Even though the graphics are crisp and accurate, they are not at the same level as some of the more modern games
Similar games
Due to the very nature of the Zuma lot there are quite a few games which you could try if you enjoyed the playing experience which it offered.
The most obvious one being the Amazon Wild slot by Ash Gaming.
As already mentioned, the soundtrack is very similar and even though Amazon Wild could be described as being something of a basic game, it is still hugely enjoyable and has the potential to offer up some very decent size wins.
Another slot for the Zuma slots players to try would have to be the all time classic, Mega Moolah by Microgaming.
This has always been a very popular game and even though this is also starting to look a little bit dated, it doesn't seem to detract from the enjoyment of playing the game.
Similar symbols will make the Zuma player feel at home and there is always the possibility of some decent size wins.
Where to play
The Zuma slot is not available at as many online casinos as you may have thought but it is still possible to find places to play.
It is always a good idea to look for any sign up bonuses which can be used to play the Zuma slot but take the time to read through the terms and conditions first.
With that in mind, here are a selection of online casinos where you can play the Zuma slot.
All Casinos to play: