Sports Bonus of up to £30 from the Betway Casino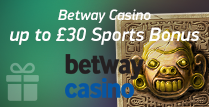 The Betway Casino is one of the websites you can trust. This is because of the type of services they offer, plus the way they treat their customers. Now, they are offering a £30 sports bonus to all their new players with a deposit of £10 only. The Betway group is one of the leading bookmakers around, offering betting on all sports activities and markets, and their sports bonus is packed with value.
Who Can Get and Use the Sports Bonus
This bonus as stated above is exclusively for new players. However, before the new players can access the bonus, they have to fulfill some conditions. They have to create a Betway account first, after which they must deposit a minimum of £10 into their sport betting account. It is after making this deposit that they will be given the £30 sports bonus. They can now wager on sports markets with it.
Additional Info about the Sports Bonus
The Betway sports bonus of £30 seems to be one of the easiest bonuses to enjoy. It is one bonus that is unlocked by making a single bet on a market or markets with odds of 1.75 and above. But before then, we have to state that it is not an exclusive bonus, it is available to new customers only, and you can only enjoy this when you make the initial deposit with debit card, credit card or PayPal. This Betway sport bonus is however not available to players from Angola, Belgium, Romania, Mexico, Israel, Greece, France, Denmark, Australia and some other countries.