£20 Welcome Bonus for Land Casino Members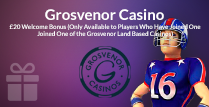 Players should take advantage of the £20 Welcome Bonus from Grosvenor Casino. This is a welcome bonus reward for new players who are members of the numerous land based Grosvenor Casinos, and they can gain this when they make a minimum deposit of £20 after signing up in Grosvenor Online Casino.
How to Pick Up and Gain from This Bonus
You have to register in the Grosvenor online Casino and present your £20 Club membership number on signing up. With the valid Membership number, it will be confirmed that you belong to a land based Grosvenor Casino. You should now go ahead and make the £20 deposit to gain the £20 welcome bonus. With it, you can enjoy all their games.
Essentials of the Bonus
This is only meant for new players of their online casino who are members of the land based casino club already. They have 56 casinos in the UK, so you must belong to one of those to be able to gain and use this bonus. The bonus will come into your account not more than 72 hours after the deposit, and you can withdraw it after wagering with it for just one time. It lasts for just 30 days and does not involve poker, side games and download casino. It is similar to the normal £20 Welcome Bonus in Grosvenor casino.
Other Bonuses by this Casino