Betconstruct Slots and Casinos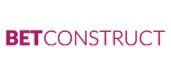 21 Games
23 Casinos
Work on: Windows, Android, Iphone
Betconstruct decided to bring a lot more than just games to the market of online casino games, which is why they have various systems that enhance the user's playing experience. Not only that, but they also provide valuable support to content providers from all around the world. One of those additions that left a big impact is the Casino Tournaments Management System, which can set up a live game, an online tournament in a matter of minutes. There are numerous specific tournament details, which someone can choose, before organizing a tournament, including schedule, prize structure, admission requirements, number of minimum and maximum players, as well as the duration of the whole tournament.
With this management system, the casinos can do wonders with player engagement and create fun, immersive tournaments that will bring in a considerable amount of both new and existing players. However, organizing, preparing and especially monitoring an online tournament usually requires a great deal of time and effort to be put into it, which is exactly why the Betconstruct Casino Tournaments Management System is perfect for virtually any online casino out there.
BetCloud is another innovation from Betconstruct, which allows their partners with a way to share revenues by getting large-sum bets, from high-rollers. This way, they will attract new players that will be big hitters with them, opening up new revenue channels, in the process. The companies who choose to get BetCloud will have the ability to manage the amount of risk that they are willing to undertake. The main purpose of BetClould is to share both any potential losses, as well as buy out bets from other casinos, in real time. This is a truly nifty tool, which can do wonders for online casinos and provide them with means to take up larger bets.
Producer History
Betconstruct services over 14 countries and specializes in producing both online real-world games for casinos. Since their beginning, they have been focused on forming important partnerships that would allow them to try their hand in virtually any aspect and form of online gambling. Their portfolio is probably the most diverse one that you can find in an online casino games provider, which has brought in some issues for them. Luckily, those issues were always taken care of in an efficient and quick manner and the company has retained its reputation when it comes to reliability.
In the last couple of years, the company has worked to bring a number of casino games, including table games, skill with prize games, virtual sports, sports betting, slots, live dealer games and even VR casinos. The said combination of truly diverse games ensured that the company will have a strong footing on the market, in the years to come.
Devices and OS compatibility
Because of the diversity of their games, as well as the fact that they produce content for both online and offline casinos, it is a tad difficult to get a clear picture on what devices and operating systems you can play Betconstruct games. That being said, if we take into consideration that the majority of the games they make can be put into the category of online games and disregard the ones that are made for real-world casinos exclusively, we can safely say that their games can be played on the following devices:
iPhones and iPads
Android smartphones and tablets
Laptops and Desktops
Producer Games Features
With their diverse portfolio, it comes as no wonder that there are numerous features of the games found within it. Games based on skill are a Betconstruct product that gives the players an alternative to all the standard online casino games you can find. It also allows the players not to rely on sheer luck to win, but also incorporate their knowledge, skill, and intelligence.
Fantasy Sports software from Betconstruct allows the players from all around the world to enjoy playing in a fantasy league in a number of sports, including baseball, American football, soccer and many others. The software allows the game runners to achieve profit, while at the same time enhancing the gaming experience for the players.
Financial Betting Software is another addition to their great mix of SaaS product, alongside Casino Suite Software. While financial betting is a relative newcomer to the world of online casinos, it will surely gain in popularity, when people start looking at it, not as betting, but as stock trading instead. The Casino Suite Software allows the operator to run as much as 3.000 different online casino games, which includes titles from leading suppliers.
Read more
Best casino games by Betconstruct
Among skill-based games, Chinese Poker has to be the one that takes the top spot, with its popularity in South American an Eastern European markets. There are four different versions of Chinese Poker to choose from. Besides Chinese Poker, there's Belote, as well as Deberc, which is the Russian version of Belote, as well as Backgammon in seven variations.
OGWIL is a quite popular game from Betconstruct, which allows the players to get an instant lottery win or get consolation prizes, instead. The game is rather simple, but that's perhaps the reason why it is so popular.
Best Casinos with Betconstruct Games
New Casinos
Local Casinos (UK)
Mobile Casinos
Name and logo
Game types
Rating
Total games
Bonuses
Countries
There are virtually countless casinos using the Betconstruct Technology, with names such as NextGen Gaming, iSoftBet, and Betsoft behind them.