Cozy Games slots and casinos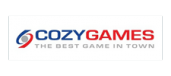 32 Games
20 Casinos
Work on: Windows, Android, Iphone
Cozy Games have been around the online casino market for more than a decade now, leaving quite a trace on the said market, mostly through their recognizable selection of online bingo games. Bingo games are not exactly the first thing that comes to mind, when you are thinking about online casino games, which is probably why Cozy Games decided to focus on that area, in order to provide all of us with some much-needed, quality bingo games.
However, that doesn't mean that there aren't other games found on the company's platform and you can find a considerable selection of online casino games, including social media related games. Further down the line, all of the games within their portfolio are specifically optimized to be playable across all the major gaming devices out there.
About Company
Cozy Games has been working on white label solutions for the world of e-gaming for more than 10 years now. They started out by creating a platform for their games, right from the get-go, which ensured that they hit the ground running. Their main focus was always on various bingo games and accompanying content because up to that point, nobody was really making online bingo games. In addition to that, they have also partnered up with some major players from the world of online casinos, such as VIP Club Casino and Slotmatic. Besides the actual content they provide to the said casinos, with over 100 online casino games, the company also excels at providing back-end support to their partners.
The company was committed to creating fun online casino games content from the start, with a special focus turned towards achieving impeccable security and non-biased fairness in the games they produce. The fairness part of the package is backed up by Random Number Generator, which is certified by iTech Labs – an independent audit company. The technology and back-end tools are there to ensure that the security of any player who decides to give Cozy Games a go, is held to the highest standards. The said technology is based on the latest SOA Level 3 architecture, which is an iGaming technology stack.
Producer History
The company was launched back in 2004, with founders Neeraj Kumar Jha and Sreeran Reddy Vanga at the helm of the company and has positioned themselves on the market, as a trustworthy, top-notch quality provider of online gaming content. Located in one of Europe's busiest online casino gaming hubs, on the Isle of Man, the company obtained two rather important licenses for their work, both the UK Gambling Commission license and the Isle of Mann Gambling Supervision Commission license.
After their initial success, the company's next big break was in 2012, when they partnered with FremantleMedia, which allowed them to start producing some trademarked games, such as X-Factor: Steps to Stardom or Jurassic Park slots. Besides the various games they are known for, the company also provides support, training, and assistance with any new integrations of their games with up and coming software. They also provide solutions for companies wanting to attract more traffic to their website and they do so with a combination of a 3rd party CRM software, website customization (including SEO) and reports and analytics made in real time, all relying on Google Big Data for immediate scalability.
Devices and OS compatibility
Cozy Games are working hard on making every single one of the 100+ games found within their portfolio available to play on virtually any device out there. They are using the latest HTML code that allows players to enjoy their favorite online casino games, on any device out there, including mobile phones, tablets, PCs, and laptops. As for operating system, the vast majority of the games can be played on either Windows, MAC or Android operating systems.
Producer Games Features
Because of the fact that they have so many games in their portfolio, it's not exactly easy to come up with features that could be applied to all of them. The graphics are quite good on both 2D and 3D games, with a special effort devoted to matching the theme style with the graphics. Their video slots games are packed with fun to play features that add to the overall playing experience of this game. The features usually do not have too many animations, which is great for those players who are playing on older devices. The features usually bring numerous free spins and bonus winning with them, which is another reason why people love them so much.
Read more
Best casino games by Cozy Games
Cozy Games got the bulk of their reputation on a wide array of online bingo games they pioneered. There are numerous variants of the game, which includes Swedish bingo, 90 ball bingo, as well as a number of easy to set up tournaments. The best feature is probably the ability to play in 20 different virtual bingo halls while using only one screen to do that.
Classic Casino games, such as Poker, Blackjack, Roulette, and Baccarat are also available to play on the Cozy Games platform and in many different variations. There's even a special Smart Roulette game, developed with mobile players in mind. In addition to that, the company expanded their portfolio with scratch card games and more than 70 video slot games, with titles such as Coffee House and Wizard's Castle standing out from the rest of the feature-packed crowd.
Best Casinos with Cozy Games Games
New Casinos
Local Casinos (UK)
Mobile Casinos
Name and logo
Game types
Rating
Total games
Bonuses
Countries
Because of the popularity of Cozy Games, if you are playing online casinos games, chances are that you already played one of the games from their offering. If not, you are bound to do so in the near future and if you would like to play one of their games now, you can do so on one of the following casinos:
Jackpot City Online Casino
Spin Palace Casino
Gaming Club Casino
Ruby Fortune Casino