Cryptologic Slots and Casinos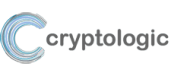 58 Games
71 Casinos
Work on: Windows, Android, Iphone
Cryptologic, under the Amaya Gaming banner, designs and produces an extensive range of high quality casino games for the online casino industry. While the brand is arguably best known for its impressive collection of online slot games, they are also well-known for designing and producing some of the best online casino table games on the web today. The brand feature a wide range of options including both three reel and five reel slot machines, licensed games (comics, television, and movies), table games including roulette and craps, card games including baccarat, blackjack and poker, all available via cross platform access on both desktop and mobile applications.
Producer History
Cryptologic, along with Microgaming and Playtech, are considered to be one of the oldest online casino software providers in the business. The brand launched their very first online casino, Intercasino, back in 1996, featuring a solid (for the times) selection of Cryptologic slots and table games. The Cryptologic brand was established the previous year in 1995 by brothers Mark and Andrew Rivkin. The brothers had developed a new online financial transaction system in their parent's basement and needed a way to test it within a real world application.
What started out as a need to test a new online security platform soon became a sought after online casino gaming brand. Cryptologic was originally based in the Rivkin brother's home town of Toronto, Canada but was eventually moved over to Dublin, Ireland. Cryptologic was one of the first casino software brands to launch a successful online casino, a move which helped to increase their profile within the gambling world quite substantially. William Hill, one of the oldest bookmakers in the world, approached Cryptologic in the early 2000, to power their online casino division, making them the first land-based sportsbook to launch an online casino.
Some important dates in Cryptologic's history:
• 1998: Cryptologic is listed on the Toronto Stock Exchange (CRY)
• 2000: Cryptologic is listed on the NASDAQ (CRYP)
• 2002: Cryptologic software certified in the Isle of Man
• 2003: Cryptologic begins trading on the London Stock Exchange (CRP)
• 2003: Acquires gaming certification through Alderney
• 2004: Cryptologic announces licensing agreement with Betfair to launch exclusive online poker
• 2002 – 2007: Market capital grows from $90m to over $400m
• 2007: Playboy launches Plaboygaming.com powered by Cryptologic software
• 2007: World Poker Tour Enterprises (WPTE) joins Cryptologic network offering a mix of pure poker as well as online casino options
• 2012: Cryptologic is acquired by Amaya Gaming for aprox $35.8m which includes all of Cryptologic's consumer gaming products, including InterPoker, InterCasino, and InterBingo. Amaya then sells off Wagerlogic, Cryptologic's business to consumer division to Goldstar Acquisitions
Devices and OS compatibility
Cryptologic games have come a long way since their first iterations in the late nineties. Thanks to their acquisition by Amaya Gaming, Cryptologic games are now fully compatible with all systems and across all platforms. All Cryptologic games can be enjoyed on desktop machines running Windows, iOS and Linux operating systems. Thanks to HTML5 adaptation, Cryptologic games look equally at home across all popular mobile operating systems including iOS for iPhone and iPad, Android tablets and smartphones, Windows Phone, and Blackberry.
Producer Games Features
Cryptologic slots are enjoyed by all level of player, from absolute novices all the way through to serious slots players. The range of Cryptologic slots and casino games is quite astonishing and covers a wide range of styles, themes, and structures. Their slots include both three reel and five reels structures, with simple single paylines to complex multiple payline structures. A range of core features are included such as total multipliers, wilds, scatters, random bonuses, free spins, and progressive jackpot bonuses, all designed to enhance the overall gameplay as well as player value aspects. Cryptologic slots and casino games look great and include the latest graphics and gaming engines, making them highly competitive with any other online casino software brand in the same market. The majority of Cryptologic slots and casino games are also available as both real money and free play games.
Read more
Best casino games by Cryptologic
Cryptologic slots and casino games have earned a high reputation over the years for their sheer quality and gameplay. Cryptologic slots are very easy to play, making them ideal for any level of experience. The games look fantastic, thanks to the latest breakthroughs in graphics and animation technologies, and the games run fast and smooth, regardless of the device being used. The level of attention to detail is extremely high and gaming graphics are designed to suit the parameters of any display specs, including smartphones, tablets, laptops, notebooks and desktops. Animation quality in themed slots is on par with any world class animation studio and their themed slots deliver an authentic experience which is highly prized by comic book and movie fans all over the world. Some of the most well-known and well-played Cryptologic themed slots include classics such as Batman, Street Fighter, Superman, and Blade.
A few of Cryptologic's general and themed slots:
Area 21
Armadillo Artie
Bejeweled
Captain Nemo
Ferris Beuller's Day Off
For those players interested in top quality casino games other than slots, Cryptologic are well-known for producing some of the most realistic virtual table games in the business. This includes a range of popular table and card games, with variations on all of the original games which includes:
Blackjack
Roulette
Craps
Poker
Baccarat
Best Casinos with Cryptologic Games
New Casinos
Local Casinos (UK)
Mobile Casinos
Name and logo
Game types
Rating
Total games
Bonuses
Countries
While many industry insiders believed that Cryptologic would eventually disappear into the annals of casino gaming history, their takeover by Amaya Gaming in 2012 has proven the opposite. Cryptologic casino gaming software has been, and continues to be, adopted by hundreds of top tier online casino brands, including the following:
1. 888 Casino
2. Betsafe Casino
3. Casino Room
4. Bitstarz Casino
5. Betvictor Casino