Gemix Slot Review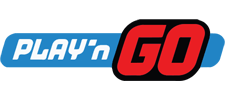 Game types:
Animals slots
7 reel slots
Play demo
Video review
Screenshots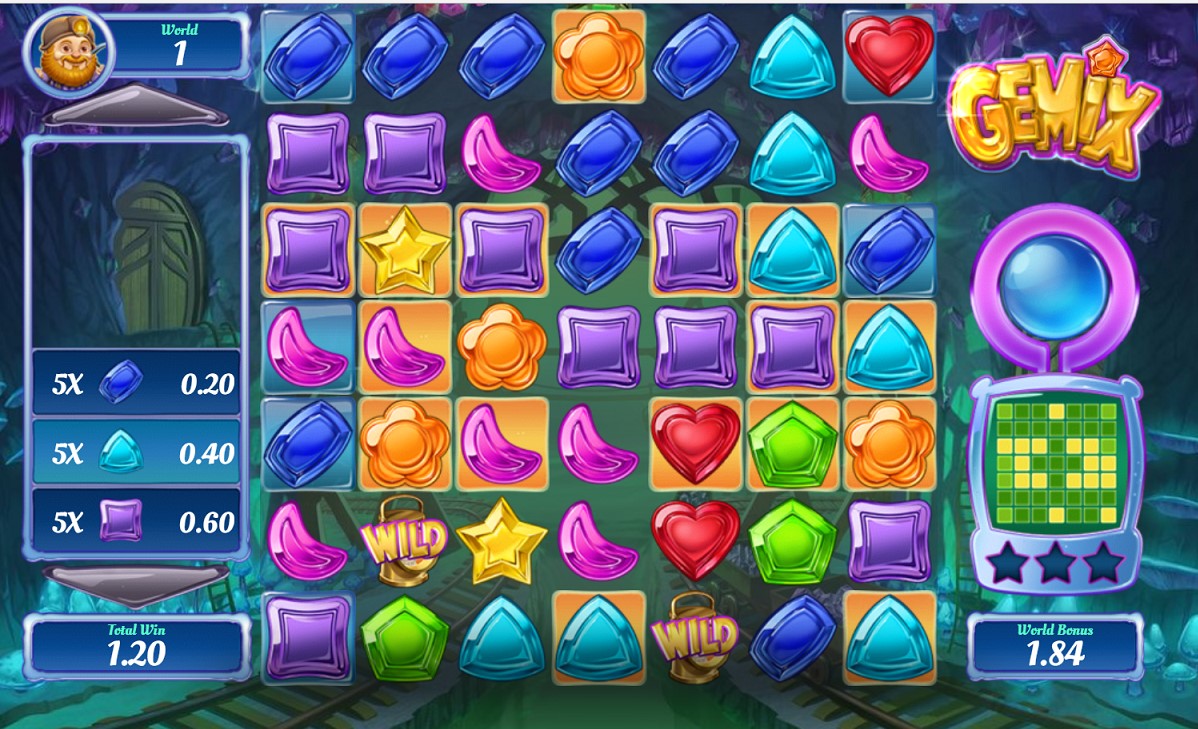 Try other slots
By this produser
By this theme
Features
Newest
Gemix is a very colourful, unique and creative video slot from Play'n GO. The game takes place on a 7x7 reel grid full of beautiful and sparkling gems in a series of vivid colours. As the game progresses more and more unexpected surprises show up and it is evident that a lot of creative was put into this game. Play'n GO is a Swedish game developer that is known for new and fresh takes on classic types of slots, and here they have taken the usual video slot experience to an entirely new level. Gemix can be played for free or with real money at many certified online casinos.
Theme, characters and environment
When you start this game the first step is to set the bet with quick bet panel, and you can choose a coin value between 0.50 to 100. Then press the "Start" button to spin the reels and off you go into the special world of Gemix. Or it is rather worlds, in plural, as this video slot contains three different worlds, with three levels each. This game also offers an auto play function that can be set to a certain number of times, which is good for both efficiency and a responsible gaming experience.
Theme and characters
The main theme in Gemix is gems, so gems that are mixed… Gemix! The 7 x 7 grid is exciting and beautiful at the same time, which creates a very pleasant gaming experience. On the left hand side there is a grid where you can see your previous gem wins, and to the right there is a pattern which needs to be matched for the level to be completed. In Gemix you also get to collect a World Bonus, which you can collect when you have completed the world. And extra bonuses is something we always like to see in a video slot.
Environment and atmosphere
Although there is a lot going on in Gemix, it is still a pretty straight forward game that is easy to play, and at the same time it offers lots of interesting surprises. The game take care of all the counting and the different levels and statuses are always available on the screen, so as a player you can chose to just keep on spinning regardless of what the status is on the level pattern and the world bonus – it is up to you how you want to experience the game.
Symbols and soundtrack
At the very core Gemix is all about grouping gems together in the same colour. Five or more gems of the same kind can join together in any way as long as they are touching, diagonally being the only exception. When the gems match they disappear, leaving space for new gems to drop in from the top. In this manner you can find yourself in a happy win upon win upon win, provided that the right gems drop down.
The gems come in dark blue, turquoise, magenta, red, purple, orange, yellow and emerald green. All of them come in different shapes, and the way they appear on the screen makes with the sound effects and the shiny graphics make them look like they are made of glass.
Special symbols
Another very unique and creative aspect of this game is that the wild looks different in each world. It kind of makes you wonder why nobody thought of doing that before, as it is so refreshing when the game changes up as you go along.
World One – Miners lamp wild symbols
World Two – Lolly pop wild spreads across the screen
World Three – Sticky spell book wilds can be added to the grid
Music and sound effects
This game has a joyful tune looping in the background that you get used to pretty fast. It sort of goes on in the background without neither adding or retracting anything from the gaming experience, like elevator music. The sound effects are all suitable and relevant, without grabbing your attention too much. In conclusion, the soundtrack works out really well in thi game.
Bonus options
Gemix certainly has an abundant number of exciting events, with a series of bonus features. The bonus features are activated when you collect a minimum of twenty gems in one spin, and this is possible because matching gems disappear, leaving space for new gems to drop down. Four bonus features are available and they appear when the spinning ball on the right hand side is activated.
Bonus games
There are four different types of "Crystal Charges" that appear when at least 20 gems are collected in one single spin. Nova Blast Charge makes one gem explode, and when it does it destroys all adjacent symbols. Chain Lightning activates a lightning flash that diagonally joins two opposing corners, transforming all symbols on that line. When the Crystal Warp is activated, one random symbol is chosen and transforms all matching symbols. If you get the Light Beam Crystal Charge, one symbol is blasted with a ray of light both horizontally and vertically, instantly transforming the symbols on those lines into matching ones.
All bonus games are very exciting and gives the player an opportunity to cash in some serious winnings, and that is definitely a big plus with this game. Especially if you have good timing with your bets and keep on adjusting it on the quick bet panel, so that you make the most out of your bonus rounds.
Wild symbols
As mentioned earlier, each of the three worlds has its own wild symbol. In world one you can have up to 10 miners' lamps. In the second you can get the lolly pops spread across the screen, and in world three it is possible to have up to eight sticky spell books, that remain in place as long as there are matches to be made.
Pros and cons of the slot
Gemix offers its players a wide variety of special and interesting features, which is always a big plus. Some players argue that this game tends to pay out many small wins, but not so many big ones, but others say that this is their go to game for big wins, and in the casino world all gaming experience are unique. Although this game lacks a free spins bonus game, there is plenty of action going on and we are in awe of this eventful gem of a game.
Pros:
High RTP (Return to Player)
Wide variety of bets available
Many different bonus games
Very dynamic and usual game play
Cons:
No progressive jackpot
No multiplier symbol
No free spins
Similar games
There are not many video slots that you can compare to Gemix, but it is more similar to Jewel Quest if any. Luckily Gemix can be played with real money and offers players the opportunity good sized cash prizes in addition to a very pleasant gaming experience.
Where to play
If you are ready to conquer the three dazzling worlds of Gemix, you can find it at several popular online casinos, like Casumo, Unibet, Betsafe, Slotsup and Mr Green.
All Casinos to play: