Immortal Romance Slot Review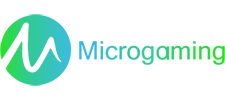 Play demo
Video review
Screenshots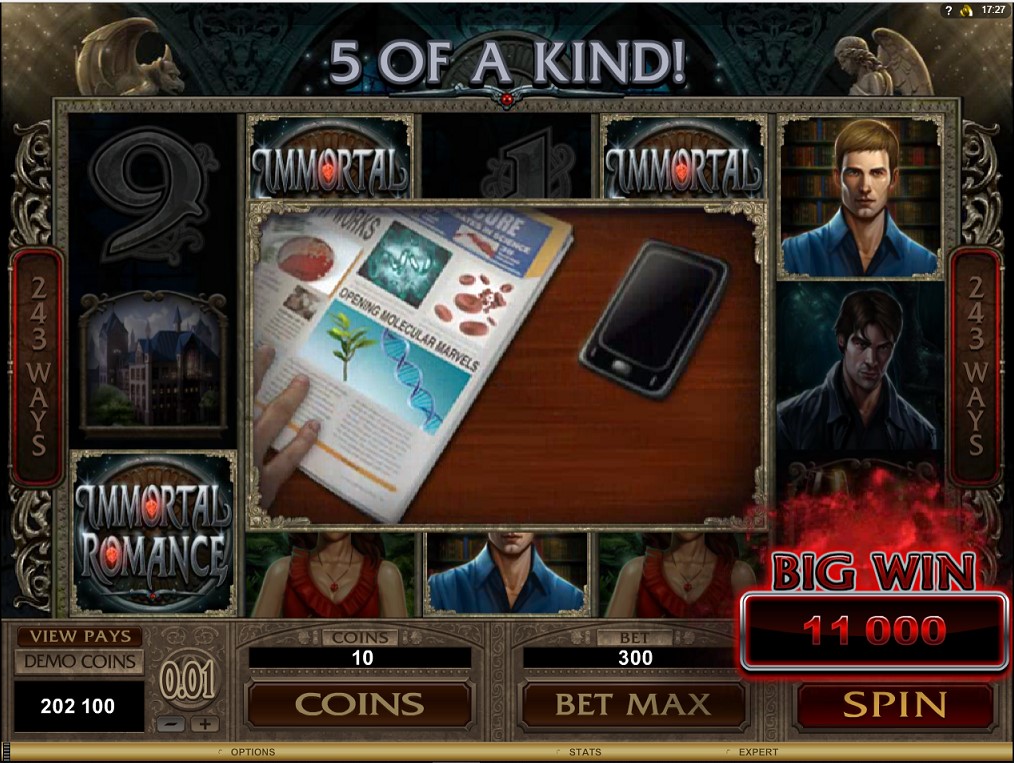 Try other slots
By this produser
By this theme
Features
Newest
Immortal Romance has been an immensely popular slot since its release in 2011 but would you expect anything less from its producer, Microgaming?
In an industry where the vast majority of slots are based on cartoon figures or superheroes, Immortal Romance sets itself apart by being based on a slightly eerie gothic theme which sets the tone for the wonderfully entertaining game.
Theme and subjects
From the very second the Immortal Romance slot loads onto your computer, you just know that you are in for a treat which is matched by so few other slot games.
When you consider that this slot has been around for some time it pays testament to Microgaming that it is still regarded as being up there with the best of them in terms of a playing experience.
You know what it's like when you are watching a great film and you can completely lose yourself in the twists and turns of the storyline, waiting with baited breath as a character turns into something that you were not expecting?
Well, comparing a film like that to a slot game may sound to be a little far-fetched but Immortal Romance certainly ticks all of the boxes when it comes to entertainment value.
Symbols and soundtrack
When it comes to the symbols of which the game is based on there is the usual Ten, Jack, Queen, King and Ace but the special symbols are the four characters, Michael, Amber, Troy, and Sarah.
Then you have the manuscript, an old house and the immortal romance logo which is, in fact, the wild symbol and the lions head door knocker is the scatter symbol.
The soundtrack has something quite mesmerising about it and it has to be said that this is something that Microgaming ALWAYS gets right.
The soundtrack fits the tone of the game perfectly and is one of the major factors which enables the player to completely lose themselves in the game.
As with most Microgaming slots, there is an autoplay facility and whilst many aficionados would argue that autoplay somewhat takes away the enjoyment from the slot playing experience, with Immortal Romance, the complete opposite is true.
Just set up the advanced autoplay option with a comfortable limit on the maximum losses then sit back and enjoy the experience.
Due to the relatively low variance on this game, due to the 243 paylines, you will be able to enjoy a longer entertainment time than you probably first imagined with the very real opportunity of picking up some very nice wins along the way.
Bonus options
If you think that Immortal Romance is an entertaining game, just wait until you get to the bonus features because that will take your excitement to another level.
Before we look into the bonus features it should again be mentioned that in terms of online casino slot games, Immortal Romance is basically an old timer, but it still offers far more in entertainment value and pay-out possibilities than so many of its rivals.
The competition would do very well to take a close look at the whole Microgaming set up because they seem to get it right far more often than they get it wrong with their online slot games, and for a game like Immortal Romance to stand the test of time as it has is truly remarkable.
Ok, the bonus options are split into different types
Wild Desire
This bonus can appear out of nowhere and there is nothing better than when it is randomly triggered. It almost makes the hairs on the back of your neck stand on end because it can turn up to five reels wild and this can result in some fantastic payouts.
The chamber of spins
This is where it really gets exciting
To trigger the chamber of spins bonus you will need to get either three, four or five lions head door knock symbols and you will be able to enter the chamber.
Once in the chamber, you are offered the choice of picking one of the characters from the game with each one representing a different spin value.
It should be noted that the first time you trigger the bonus the only option open to you will be to choose Amber, who represents ten free spins with a very generous five times multiplier.
As you further trigger the bonus you will be able to choose the other characters which represent the following features.
If you choose Troy you will be awardee fifteen free spins along with a feature which involves vampire bats flying over the reels and instantly turning them into two or three times multipliers.
With Michael, you are awarded twenty free spins which come with the rolling reel feature which will turn losing lines into winning lines with a multiplier of anything between one and five times.
Finally, there is Sarah who represents twenty-five free spins along with a fabulous feature which involves the wild vine symbol which transforms reel number three into wilds.
There is also a scatter feature which will result in either one, two, three or four free spins depending on how many scatter symbols are landed.
Pros and Cons
It is easy to come up with positive aspects in relations to Immortal Romance because it is such a great game but not as easy to come up with the negatives.
The funny thing is though, even though it has earned rave reviews over the years, there are still players who would prefer to look elsewhere so let's take a look at the pros and cons of the game.
Pros
Wonderful graphics and underlying theme means that Immortal Romance is an entertaining game to play
A relatively low variance which means that the player is able to really get into the game and enjoy the rewards that it offers.
As the Wild Desire feature can appear at any time it is always nice to know that an otherwise losing spin can be 'rescued' at any time and result in some superb unexpected pay-outs.
Cons
Newer games could be considered to be more appealing to the younger online casino slots player.
The way that the 'chamber of spins' bonus feature is set up means that a player is tempted to play for longer than they might have bargained for in an attempt to get the option to choose one of the bonus symbols which come with more attractive features.
In the fast-moving world of slot development, Immortal Romance could find itself to be regarded as a little on the old-fashioned side.
Similar games
Avalon
If you are a fan of Immortal Romance, another slot which will probably appeal to you is Avalon.
Another classic by Microgaming, Avalon offers a similar bonus structure and can also boast relatively low variance which means that you could set up the autoplay and sit back to enjoy the action.
It should be noted that later versions of Avalon have been brought to market so bear that in mind before getting involved.
Thunderstruck
Staying on the theme of Microgaming slots, Thunderstruck is yet another which will appeal to lovers of Immortal Romance.
Very easy to play with just the one bonus feature which is the ram scatter symbols which result in fifteen free spins.
As this is a Microgaming slot, autoplay is available and there is also the option of either collecting or gambling any winnings.
Where to play
There are many choices of which casinos to play Immortal Romance and it is always a good idea to check to see if there is any bonus available which you can use to boost your bankroll.
The casinos listed below all feature Immortal Romance and the sign-up bonuses they have on offer are listed next to each one.
Unibet Casino – 100% to £100
Pink Casino – 100% – £150
Ladbrokes Casino – 100% to £300
Mr Smith Casino –100% to £100
Foxy Casino –100% to £200
Casino Euro – 100% to £100
All Casinos to play: