NeoGames Slots and Online Casinos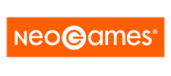 47 Games
33 Casinos
Work on: Windows, Android, Iphone
NeoGames has become a well-known online slot developer that was founded in 2005. They are leaders in iLottery, but have also expanded their services to iGaming platforms that include a large range of slots. In fact, the Luxemburg-based company features at many well-known online casinos, offering a small games library that packs a punch with exciting bonus features, high-quality themes and even a few progressive jackpots.
Devices and OS compatibility
NeoGames offers a surprising range of mobile gaming options that are compatible with any smart devices, including tablets and smartphones. The developer keeps up with the latest trends in software, offering players the opportunity to enjoy instant play from any device.
Read more
Best casino games by NeoGames
There are many exciting games to choose from in the NeoGames platform, including both classic style games as well as modern multi-line slots. Lucky Machines is the perfect example of how the developer introduces innovation with each release. The slot comes with five different games, played at the same time, offering 3 reels each, multiple betting options and even a bonus game.
One of their older titles include Egyptian Magic, which might not provide the latest high-quality graphics, but you'll still be able to win up to 10,000 coins, activate multipliers with scatters and enhance your winnings with wild symbols that double the payouts of each combination.
Mighty Sphinx also features an Egyptian theme, but the developer includes higher quality graphics and additional bonus features, such as a bonus game, wild symbols, scatters and a free spin bonus. The jackpot winnings still impress with up to 4,000 coins in a single combination.
Best Casinos with NeoGames Games
New Casinos
Local Casinos (UK)
Mobile Casinos
Name and logo
Game types
Rating
Total games
Bonuses
Countries