Red Tiger Gaming Slots And Casinos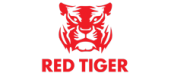 93 Games
149 Casinos
Work on: Windows, Android, Iphone
A relative newcomer to the scene of online casinos, Red Tiger Gaming was founded in 2014, but the immediately left an impact, as the company is being run by experienced industry professionals. They gained the said experience by developing games for both Asian and European markets. If you take a closer look at their website, as well as the content they produce, you will notice more than a handful of details that hint at the quality of the company and content they produce. They develop both free to play games and real money casino games.
About Company
Red Tiger Gaming hit the ground running right from their start in 2014, with a diverse and talented team of developers, designers, mathematicians, gambling experts and others who worked together on delivering top-notch quality content. Besides the games, it is quite clear that the team also worked hard on the image of their company, as well as products and services they provide. The result of that combination is more than just good, as in the end, you get a gaming experience that is quite immersive and easily enjoyed. They make both
Another clear focus of the company is on making smart, mutually beneficial business partnerships with select casinos. In addition to the games produced for their partners, RTG is also making free to play games, which can be played across a number of devices. Another quality of RTG is that they have clearly put in some real effort into the design and user experience of their games. They claim themselves that they always look for a way to make their games as fun as possible.
The reliability of the company is one of the reasons why they hit the ground running, which can be seen in their 24/7 technical support. However, while the work on the front end is undeniable, that doesn't mean they skimped on the quality of the code and analytics in the back. Besides detailed analytics and 24/7 technical support, Red Tiger Gaming offers custom features for their games, as well as free integration into the casino systems.
Producer History
Located on the Isle of Man, Red Tiger Gaming have had the UK Gambling Commission license right from the get-go in 2014, although they have been rather quiet in the first two years of working. Granted, that was probably because they were focused mostly on developing new games for the up-and-coming online casino games market. However, in 20, they showed everybody they meant business, with a number of notable partnerships with big name casinos, such as Paddy Power, Betsson, and Slotsmillion.
This provided RTG with some much-needed credibility, which they used to form additional partnerships in both the same and the following year. Perhaps the most notable ones were with William Hill and iGaming Cloud.
Their most recent ventures consist of adding online table games to their portfolio, with additions such as European Roulette and Baccarat already among it.
Devices and OS compatibility
With considerable experience already under their belt, the people behind RTG knew that they had to make their games available on every device with an internet connection. This is exactly why every game in their portfolio can be played across a number of devices, including:
Laptop and Desktop computers
Tablets and iPads
Android smartphones and iPhones
Producer Games Features
Their games are packed with fun features, but it's the astonishing graphics that really catch the eye, with rich animations and stylish display. It's not that the games have a great design, they were clearly created with a variety of factors, in order to maximize the player experience. The company calls this "The Science of Fun" and with such games within their portfolio, it's easy to see why.
Slots are one of the initial products in RTG's offer, which quickly rose in the ranks of online video slots, due to exquisite graphics and fun gameplay. With a diverse portfolio of slot games with a number of different themes and a selection of great features, it comes as no surprise that Red Tiger Gaming managed to position themselves well on a market with a huge amount of competition. A thing worth noting is that although the themes of the games are quite varied, the finishing design touches have more than a few shared characteristics.
The company recognized the market's need for online table games and had worked hard to deliver some of the most popular table games to the online world. Those games include Blackjack, Baccarat, and Roulette, to name a few.
Read more
Best casino games by Red Tiger Gaming
Their bulk of portfolio is in video slot games and there is a vast number of titles you can choose from. Epic Journey is a prime example of a fun to play the game, with impeccable graphics and many cool features that grant you various bonuses throughout your game. If you manage to get a bonus or a jackpot, you are bound to make a buck, as well. The Ancient Script is a rather different example, with a classically Egyptian themed video slot games, but is a lot of fun to play nevertheless.
Besides those two major players, there is a myriad of cartoon-themed tames, with great graphics and interactive animations. Treasure mine is one of those games, with interactive gameplay that is just plain awesome to play.
Among the rather limited collection of online table games are Blackjack, Baccarat, European Roulette, and Deal or No Deal Blackjack.
Best Casinos with Red Tiger Gaming Games
New Casinos
Local Casinos (UK)
Mobile Casinos
Name and logo
Game types
Rating
Total games
Bonuses
Countries
As we mentioned above, RTG was always focused on forming valuable partnerships, so it comes as no surprise that their games are available in a number of online casinos. If we add the fact that they are offering free integration, we can only conclude that their availability across reputable casinos will only continue to grow. Among the casinos with RTG games are Poker Stars, Paddy Power, Bet Fair, William Hill, Ladbrokes and many more.