Cashapillar Slot Review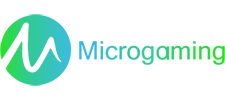 Game types:
Animals slots
Cartoons slots
Casino slots
Nature slots
Other slots
Play demo
Video review
Screenshots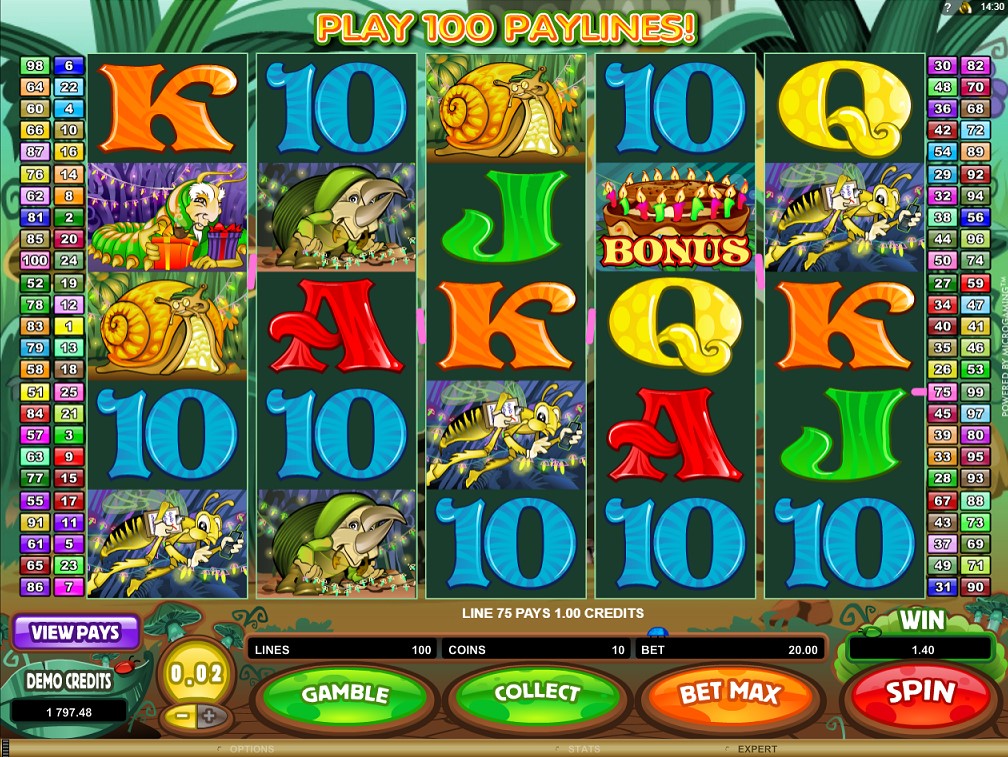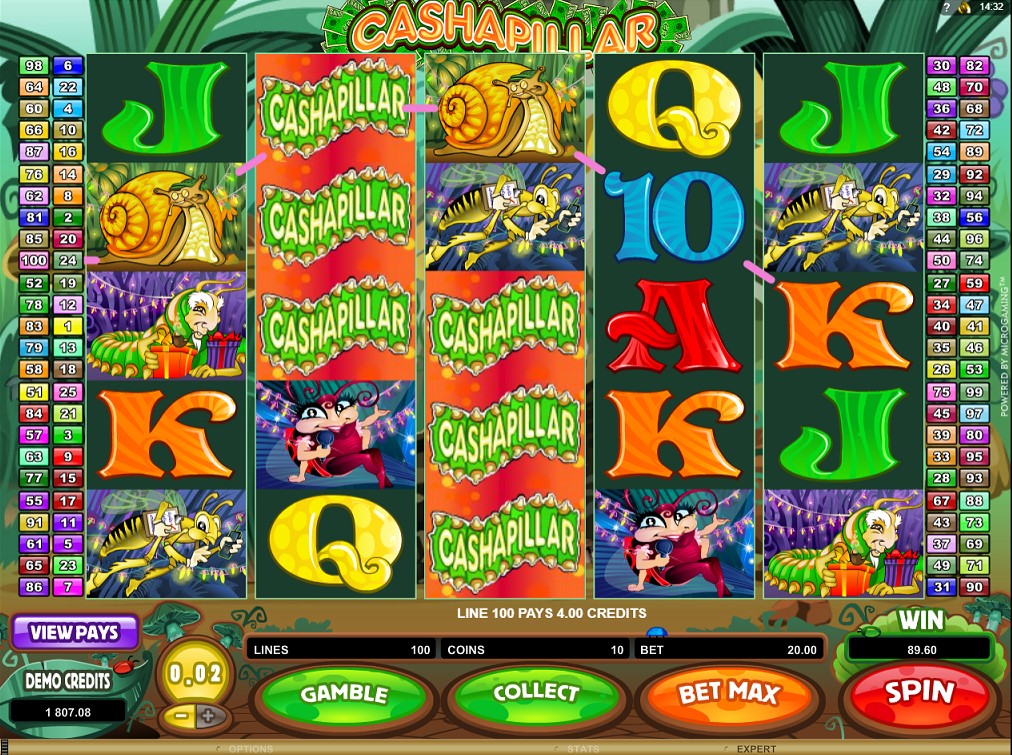 Try other slots
By this produser
By this theme
Features
Newest
When you look at the Cashapillar slot for the first time you could be forgiven for thinking that this is yet another example of a Microgaming slot which has seen better days and playing it will be a mind numbingly boring experience.
If first impressions count, you could very well be correct in your assumption but once you start playing this slot you will come to the realization that there is far more to it than you may have first thought.
Whether this is more through luck than judgement on Microgaming's part is up for discussion, but to be perfectly honest, it doesn't really matter.
The Cashapillar slot is a highly entertaining game and there is far more to it than initially meets the eye, as you are about to find out.
Theme and subject
The theme of this slot is a caterpillar along with a number of other insect type characters and it is easy to mistake this game as one which is firmly directed at children.
This is obviously not the case because children are not allowed to gamble so the second mistake that you could make is that the whole set up is very amateurish.
Now, even though Microgaming can sometimes be described as being a little bit behind the times, being amateurish is something that they most definitely are not so that first impression could be that all of the main symbols have something of a fun feel about them.
It could also be that the reels are of a five x five formation and this gives the affect that the screen is very busy.
There seems to be an awful lot going on and this is what gives a somewhat false impression when loading up the game for the first time.
Like most Microgaming slots, Cashapillar plays very quickly and it could be argued that there is the possibility of longish losing runs, but that problem seems to be negated by the presence of stacked wilds which seem to pop up on a regular basis, with the results of winning pay lines being more common than you would first imagine.
Symbols and soundtrack
The soundtrack is very quirky and fits the light heartedness of this slot perfectly.
This is an area where Microgaming have fallen short with quite a few of their slots but on this occasion, congratulations are in order because they have got it just right.
On first sight the symbols don't look as vibrant in detail as they do with other slots that you have probably played, but on closer inspection they go into more detail than lots of the games competitors.
If you have time, take a closer look at some of the insect symbols and they could have been taken directly from a high quality illustrated book.
Whilst this aspect of online slot games are not important to most players, credit again has to go where it is due and these graphics on these symbols are of a particularly high standard.
The symbols themselves consist of the usual ten, jack, queen, king and ace with the expertly illustrated special symbols comprising of a ladybird, a snail, a wasp, a beetle and a green caterpillar.
The wild symbol is represented by the red and green Cashapillar symbol and the bonus symbol is a birthday cake.
It doesn't sound like much but when the stacked wilds drop to form a winning pay-line they seem to wobble slightly which actually adds to the overall excitement of the game, very clever again by Microgaming.
Bonus options
Before we go on to talk about the main bonus feature, further mention should be made of the stacked wilds.
When a winning pay-line is formed which includes a wild symbol, the winnings are doubled and the stacked wilds can also appear during the free spins so the winnings can often be quite lucrative.
As for the free spins themselves, these are triggered when three, four or five birthday cake symbols appear anywhere on the pay-lines.
Fifteen free spins are awarded no matter how many birthday cake symbols are on display but the initial win from more than three birthday cake symbols will obviously be higher.
The highly attractive aspect of the free spins feature is that all wins are subject to a three times multiplier but if a stacked wild is also included in the winning pay-line, this multiplier can go up as high as six times.
These free spins can prove to be extremely lucrative and this feature alone means that the Cashapillar slot appeals to high rollers as well as the recreational players.
There is also a gamble option but using it cannot really be recommended unless you are playing to set system whereby any gambles will have a positive affect on the expected value of your gameplay.
If you are interested in the gamble feature it is very straightforward, just choose red or black playing card.
If you choose correctly your win will be doubled, choose incorrectly and you will lose any amount that you have just won.
Pros and cons
It is a shame because some players will take one look at the Cashapillar slot and walk away after making the assumption that it is not only a tired and dated game but that playing it would also be a complete waste of their time.
After playing the game, most people would probably be in agreement that there is far more to it than initially meets the eye so let's take a further look at the pros and cons of the Cashapillar slot.
Pros
Cashapillar is a highly entertaining slot to play and it is of little wonder why it has proved to be so popular over the years
Some large wins are quite possible from the free spins round
The details of the graphics on some of the symbols is first class
This is a very quick and easy game to play without any complications whatsoever.
Cons
On first sight the game looks extremely tired and dated.
The playing screen is very busy and it sometimes looks a little too much on the eye.
The gamble feature is very much on the basic side
The players who are regarded as high rollers may nor realise how profitable the free spins can be.
Similar games
If you enjoyed playing the Cashapillar slot it would be a wise move to stick to the Microgaming slots as they all have that familiar feel about them.
If you have been interested in online slots for any length of time you will probably have heard of the Thunderstruck slot which is also produced by Microgaming.
This is a strange slot because even though it looks very basic it is highly enjoyable to play and can often prove to be extremely popular.
Another offering from Microgaming which would be worth considering is the Game of Thrones slot.
This one is a little more extravagant in terms of overall production and is a highly entertaining game to play.
If luck is on your side it is always possible to pick up some decent wins from Microgaming slots and Game of Thrones is certainly no exception to that.
Similar games
The Cashapillar slot is available at many online casinos so it could be worth your while to investigate what kind of sign up bonuses are available which you can use to play on this slot.
As always, check the terms and conditions first but a bonus can make your Cashapillar playing experience even more lucrative than it might otherwise have been.
Casino Euro– 100% to £200
Queen Vegas Casino – 100% to 1200
Mr Play Casino – 100% to £200
Casimba Casino – 100% to £100
Guts Casino – 100% to £400
Slots Million – 100% to £100
Atlantic Spins Casino – 100% to £200
All Casinos to play: