Cleopatra Slot Review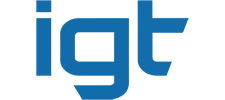 Game types:
Animals slots
Countries slots
History slots
Mystery slots
Nature slots
Other slots
Play demo
Video review
Screenshots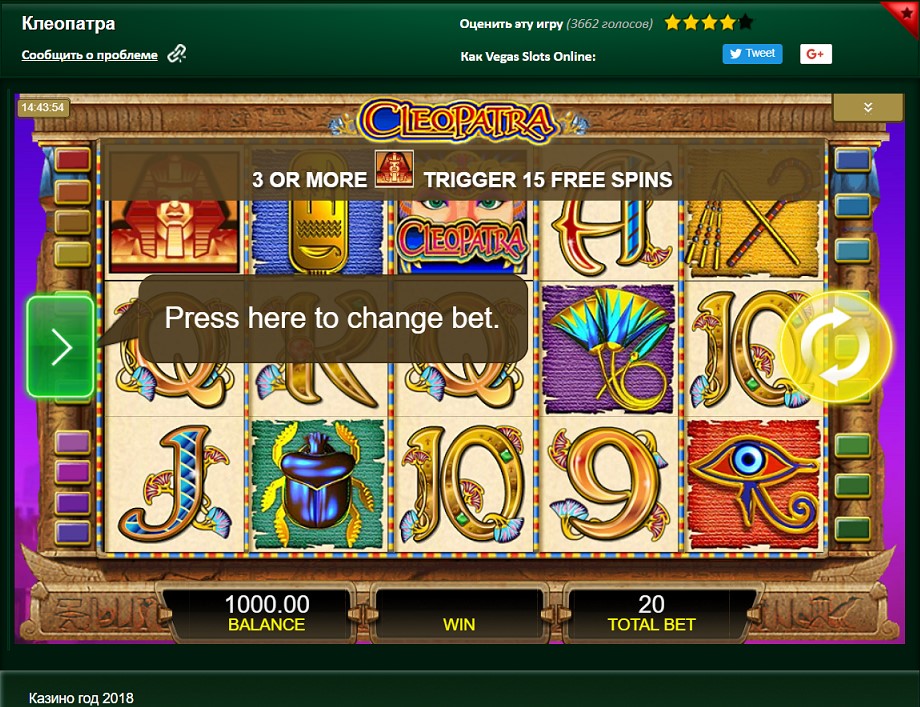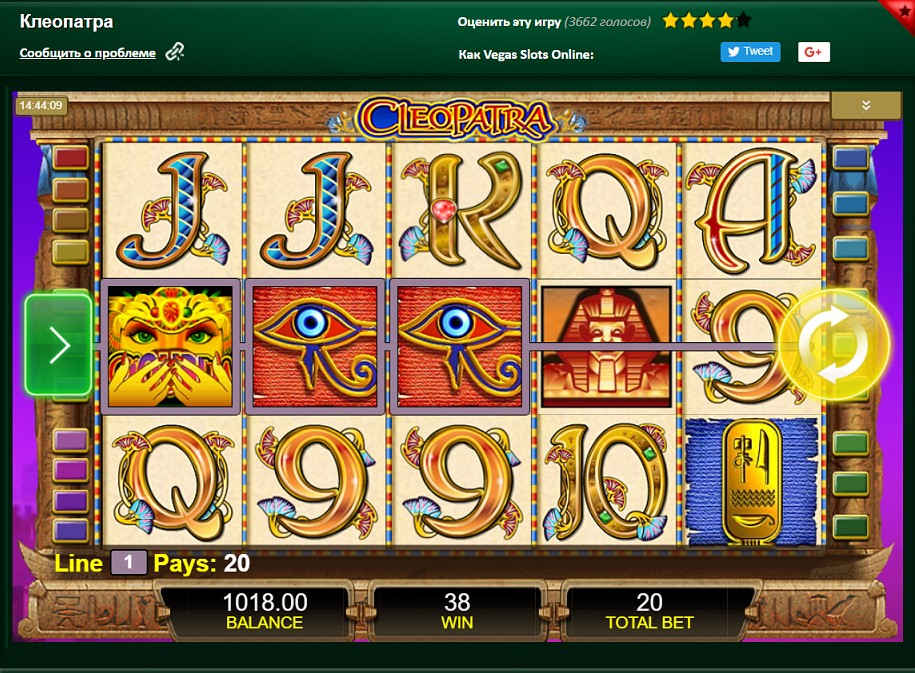 Try other slots
By this produser
By this theme
Features
Newest
The Cleopatra slot game has been produced by IGT and has held its own in terms of popularity despite the fact that it is not really one of those 'bells and whistles' slots which are often described as an entertainment experience.
Many slots players prefer playing a more basic type of game and as far as those types of games go, Cleopatra is up there with the best of them.
Theme and subject
The theme of the game is obviously Cleopatra and the symbols represent the usual Ten, Jack, Queen, King and Ace as well as various symbols which match the Cleopatra style theme.
In usual IGT style, the basic symbols have been slightly 'done up'. In order to make them a little different, but the Cleopatra styles symbols are the ones that make the game stand out.
These symbols consist of the 'Eye of Horus', a beetle, the wild symbol and the Sphinx which represents the scatter symbol.
Even though Cleopatra is not the first choice for many slot players, it is not difficult to see why it is so popular.
It cannot the attraction of massive pay-outs but there is a sense of excitement when three or more Sphinxes land because the pay-out from the resulting free spins can soon mount up.
Symbols and soundtrack
The soundtrack which plays in the background of this games is exactly what you would expect. Think of an old Egyptian film you may have watched in years gone by with the pyramids in the background and that is exactly the kind of atmosphere you get with Cleopatra.
When you get a winning line which contains the Cleopatra symbol there is a strange voice which sounds something like 'twice is nice' which on thinking about it is probably what it does say as the Cleopatra symbol doubles the pay-out.
Playing Cleopatra can be quite strange because even though the variance is on the low side it can often seem that you go through long spells without getting a win but then the bonus round pops up and you are again in profit.
If you are playing Cleopatra whilst taking advantage of a casino sign up or reload bonus (i.e.. Playing with more money), the variance does even itself out and it is not at all unusual to come out with a decent size profit.
Bonus Options
This is where Cleopatra probably falls down against other games but those who knock it for that reason are missing the point.
You can get some great wins from the bonuses on Cleopatra and the bonus is based around getting three or more Sphinxes which results in fifteen free spins.
When this happens, a little presentation begins which culminates in what looks like a set of curtains being pulled back as if to signal the start of the fifteen free spins.
Any wins gained as a result of the free spins are trebled and this fact alone can see the winnings seriously mount up.
If another three or more sphinxes appear during any one of the free games another 15 games are added.
Looking at the terms and conditions of the game, there is a limit of how many free games are added during this process and that figure is capped at one hundred and eighty.
So, as you can see, even though Cleopatra doesn't offer any mega bonuses it is still possible to win a decent amount of money if luck is on your side during the free spins and any regular Cleopatra player will confirm that this can happen more often than you may initially think.
The thing to remember is that the Cleopatra slot has been around for a very long time and is still one of the most popular games out there.
If a game can stand the test of time in this way it must be doing something right and most slot players will tell you that this means it must not only be an enjoyable game to play, but also one which gives them a good chance of winning some money.
Pros and Cons
Cleopatra is a funny game in that some players love it and some players hate it.
A telling point though is if you look at any casino where Cleopatra is available you will see that it is one of the most popular slots on offer with more money being wagered than many of its competitors.
Pros
A straightforward game to play which is easy on the eyes and easy on the ears.
Even though massive bonuses are not on offer it is still quite possible to get some decent size wins if luck is on your side during the bonus rounds.
Quite a low variance game due to the fact that smaller wins occur on quite a regular basis which means that you can usually experience a linger play time if you have a limited amount to deposit.
Cons
The graphics and soundtrack could be described as being extremely basic by those players who prefer a more entertaining experience.
In this day and age where many slot games are able to advertise all sorts of bonuses, Cleopatra is sadly lacking
IGT have brought out variations of the game such as Cleopatra Plus but it wouldn't be too much of an exaggeration to describe this original version of Cleopatra is being slightly old-fashioned.
Similar games
When it comes to similar games to Cleopatra you either have the choice of choosing one of the newer versions of the game or going for one of the slots which are similar because of the basic game play of the slot.
Cleopatra Mega Jackpots
The majority of the symbols in Cleopatra Mega Jackpots are the same as the original Cleopatra games with the exception being the Mega Jackpots symbol and the opportunity to win the Mega Jackpots progressive award which as you know will get bigger and bigger until it is won.
It could be argued that in developing this game, IGT has gone some way to address the concerns of those who argue that the original Cleopatra is sadly lacking in terms of a large pay-out opportunity but only time will tell if this newer version of the game will prove to be as popular.
Rainbow Riches
There is no doubt that the theme of Rainbow Riches is nothing like Cleopatra, but it is similar in that it is very easy to play and without the opportunity to take advantage of large bonus pay-outs.
It would be fair to say that if a player likes playing Cleopatra they will probably enjoying playing Rainbow Riches and vice versa.
Where to play
A large number of online casinos provide Cleopatra for their players to enjoy so it makes perfect sense that if you are going to play you should ask if there are any bonuses available to tempt you to get involved.
A few of the casinos which offer a bonus to play Cleopatra are listed below but don't forget that you don't have to go in with the full amount advertised.
As an example, if a casino is offering a 100% bonus to £100, you don't have to deposit £100, you could deposit £20 for a £20 bonus if that suits you better.
Also, be aware that casinos often offer ongoing or reload bonuses from time to time so remember to keep an eye out because it is usually better to play with a bonus than without one.
Bet365.com – 100% to £100
Betfair.com – 100% to £10
BGO.com – 100% to £300
Coral.com – 100% to £10
PaddyPower.com – 100% to £300
All Casinos to play:
Sorry, but we don't have casinos matching this criteria.