Realistic Games Slots And Casinos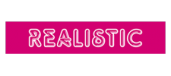 74 Games
91 Casinos
Work on: Windows, Android, Iphone
The Realistic Games Company started out back in 2002, just as the market of online casino games was emerging. This allowed them to accumulate enough experience, so they could now produce only top-notch quality games for online players. Up until recently the company was making games only through 3rd parties but has since started making games under their own logo and brand, delivering them to the people from all around the world. In addition to that, they have since developed their own platform for games, called ReGaL, which is short for Realistic Games Library.
About Company
The company can be rightfully dubbed as an independent software developer, with a special knack for producing quality online games of chance, such as slots.     Operating from Berkshire, the UK they have positioned themselves quite nicely on the online gambling market, which comes as no surprise if you consider that they have more than 15 years of experience.
Their portfolio of games is not exactly large, but it is diverse, with both contemporary and retro games you can choose to play. One of their biggest hits was an officially licensed slot game modeled after Liverpool Football Club. This proved to be a big hit, as Liverpool fans never walk alone and have a cult following.
One of the main factors that differentiate Realistic Games from all the other online gambling content producers is their Realistic Games Library platform, which was created to host the games in their portfolio. The platform has a remote games server, operating from Gibraltar, for which the company vouches that it will never go down, no matter how many players are currently online. The platform also allows you to play any of the games with any currency and in more than 17 languages.
The company is a proud supporter of fair and responsible gambling, which can be proved by having two gambling licenses, one from the Gibraltar Gambling Commission and the other from the UK Gambling Commission. In addition to that, although they are not required to do so, the company puts their random number generators, as well as a return to player numbers to testing by not one, but two different organizations – SQS and GLI.
Producer History
Realistic games were founded in 2002 in the UK, but it wasn't until three years later that people began to take notice of it. The company released a small number of games via 3rd party providers, but it was proven again that quality beats quantity every time. They were collaborating with many prominent online casinos, including Bet Victor, Bet385, Ladbrokes and Bet Fred, which were already well respected in the online casino industry.
However, in 2009, they decided to create their own platform, called ReGaL and start featuring the games they make there. That being said, the new platform didn't stop them from partnering up with additional respected online casinos, such as Paddy Power, Boylesports and Locus Gaming. Those partnerships helped created a serious image the company boasts to this day, which helped them immensely in getting a solid footing in the growing online gambling market.
Their latest achievements can be mirrored in the fact that Realistic Games was one of the few b2b providers to get a Game Host license, in 2017. The same year saw their first HTML5 only game, called Symmetry, come to life.
Devices and OS compatibility
In today's online casino games market, it is imperative for the games to be available on virtually any device out there. Although the company might have recognized the need for this a tad sooner, they still did a pretty good job of transitioning to the HTML5 code, which allowed all of their games to be played on a number of stationary and portable devices, including laptops, desktops, tablets, smartphones, as well as Android, Windows and MAC operating systems. Another example of Realistic Games doing the extra mile is the fact that they are offering assistance to other casinos in bringing their content to portable devices.
Producer Games Features
Since they were a bit lagging behind their competitors, when it comes to the playability of the games across various platforms, the company focused on making games that were easy to use and had a minimalistic design. Their reel video slots are quite simplistic in design, but they are fun to play and easy to operate. The said simplicity was employed to allow players with older devices to play the games, too. Because of this, there are no overly-flashy graphics and RAM-eating animations.
That being said, their games are far from unattractive and their themes range from classical to the more contemporary ones. Tutankhamun slot game has a classic Egyptian theme, which is packed not only with a theme relevant visuals but also great bonuses and a massive jackpot feature. Realistic Games was not afraid to enter the world of modern themes for slot machines, which can be seen in their choice to make a game in the style of Manga comics.
Read more
Best casino games by Realistic Games
Although they have a native platform for their games, the company doesn't exactly have a large portfolio of games. With slots being their main focus, you can choose from a number of fun games to play, including 8th Wonder, Sunset Reels, Hot Cross Bunnies, Time is Money, Pentagram, Big Wheel and many others. Some of these slot games have a quite large jackpot bonus, which can go as high as 40.000 times the stake per line.
Symmetry has to be one of their most popular games, which comes as a bit of a surprise, as this game doesn't just rely on the lady luck. Granted, most of the gameplay relies on luck, but you would do great if you put a betting strategy in place, in order to get the most out of plentiful bonuses this game has.
Best Casinos with Realistic Games Games
New Casinos
Local Casinos (UK)
Mobile Casinos
Name and logo
Game types
Rating
Total games
Bonuses
Countries
As we mentioned above, the company started out making games for other online casinos, which is probably why they can be found on a number of popular casinos sites. The most prominent ones include:
Bet Victor Casino
Leo Vegas Casino
Drueck Glueck Casino
Video Slots Casino